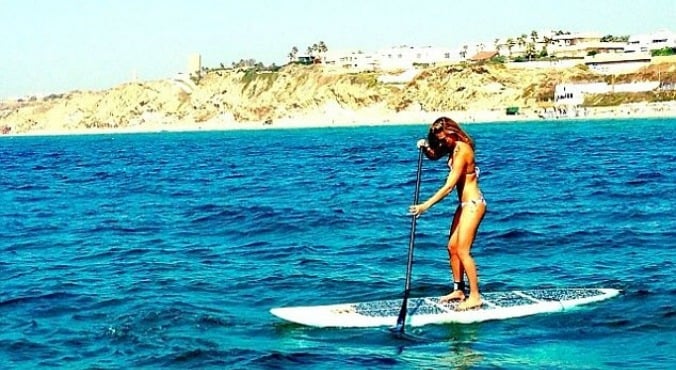 Image via Instagram/@barrefaeli.
Jennifer Hawkins has tried it. So have Kendall Jenner and Rihanna.
Paddleboarding is all the rage among the rich and famous, but there's no reason why you can't try it too.
Most of the time when we see photos of celebrities paddleboarding, their facial expressions suggest complete relaxation — which might lead you to wonder if it's actually a good workout.
Turns out, the answer is yes.
"Paddleboarding uses the body in very different ways from most other exercise modalities. Because you are standing still on a surface that is highly variable, paddleboarding is excellent at improving your proprioception," Thamsin Dunn, National Master Coach, Fitness Instructor and First Aid for the Australian Institute of Fitness, explains.
Kendall Jenner paddleboarding. (Image via Instagram/@Kendalljenner.)
Good proprioception — that is, your body's awareness of itself in space — is what prevents major injury in peripheral joints, which is why we see a lot of athletes paddleboarding during their off-seasons.
"The paddling motion further challenges this proprioception. The body now has to coordinate on an unstable and variable surface, with vast centre-of-gravity changes each stroke. This also helps improve dynamic core strength as the core manages the rotation and flexion through the lumbar spine," Dunn says.
There are also some strength benefits, he adds, particularly for the legs and back muscles. This also helps to improve posture.
10 tips for paddleboarding
1. Get lessons
While it might look super easy, there are skills involved in paddleboarding so it will pay off big time if you get yourself into a lesson to begin with.
"Many people think they would be better off spending their money when they can already do [it] a bit. This is wrong — if you try and teach yourself, you'll learn terrible habits that are hard to break in the future," Dunn explains.
2. Start off slow
You already have enough to think about when learning a new skill, so make it easier for yourself by beginning in calm waters.
"Find the calmest, stillest shallow water possible, don't head straight for Bondi [beach], for example. And always ride the waves that you can handle," Dunn advises.