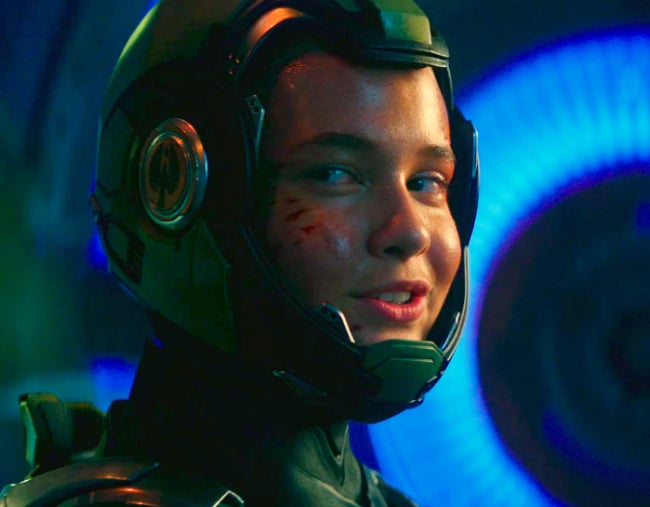 I've never been that keen on robots, fighting or otherwise. They're probably not that keen on me either.
But somehow sitting through a two-hour movie completely focused on multiple large robots, I found myself smiling. Enjoying myself, even.
But… but I don't like robots, I thought. Why do I care if these robots die?
I cared because Pacific Rim Uprising is the action movie with such a fun story-line, I kind of forgot it was about robots at all.
The sequel to 2013's Pacific Rim, Pacific Rim Uprising picks up years after earth won the first war against evil aliens called 'Precursors', defeating their gross 'Kaiju' monsters with their big 'Jaeger' robots. Get it?
Watch the full Pacific Rim Uprising trailer below. Post continues after video.
If like me you're not familiar with the first film, don't worry. I got a quick run down from a colleague who loved the movie and also knows her geography that went something like this:
So the Pacific Ocean has the biggest tectonic plates and apparently there are Godzilla-esque monsters called Kaijus living under them and are programmed to take over the world. In Pacific Rim they pop up from the cracks of the tectonic plates and try to destroy us all.

So the human race built these giant robots called Jaegers (Power Rangers combined style) that need two pilots to be telepathically connected to fight them. Each monster that comes for us keeps getting stronger and stronger and the only 'team' that can beat them are the Americans. Then, Idris Elba blows himself up to save Earth and everyone wins.

Oh, and it's called Pacific Rim because the countries most in danger from these monsters are located around the 'rim' of the Pacific Ocean.
Thanks colleague.
Star Wars star John Boyega plays Idris Elba's son Jake Pentecost, a former Jaeger pilot who left the army for the wrong side of the tracks. John's quite enjoying his rebellious life, until he comes across a young, plucky wannabe Jaeger pilot Amara Namani (Cailee Spaeny). After they both wind up in jail together, they're drafted into the army to serve their time training with the Jaeger pilots.
Then a series of events leads to a new Kaiju threat, forcing Jake, Amara and the under qualified Jaeger pilot cadets to save the world on their own. With some help from the rule-abiding Jaeger commander Nate Lambert (played by Scott Eastwood).
Essentially, this movie is all about fighting robots. Robots punching each other. Robots running under each others' legs. Robots get smashed apart.
But it's the people flying these robots that hooked me in.