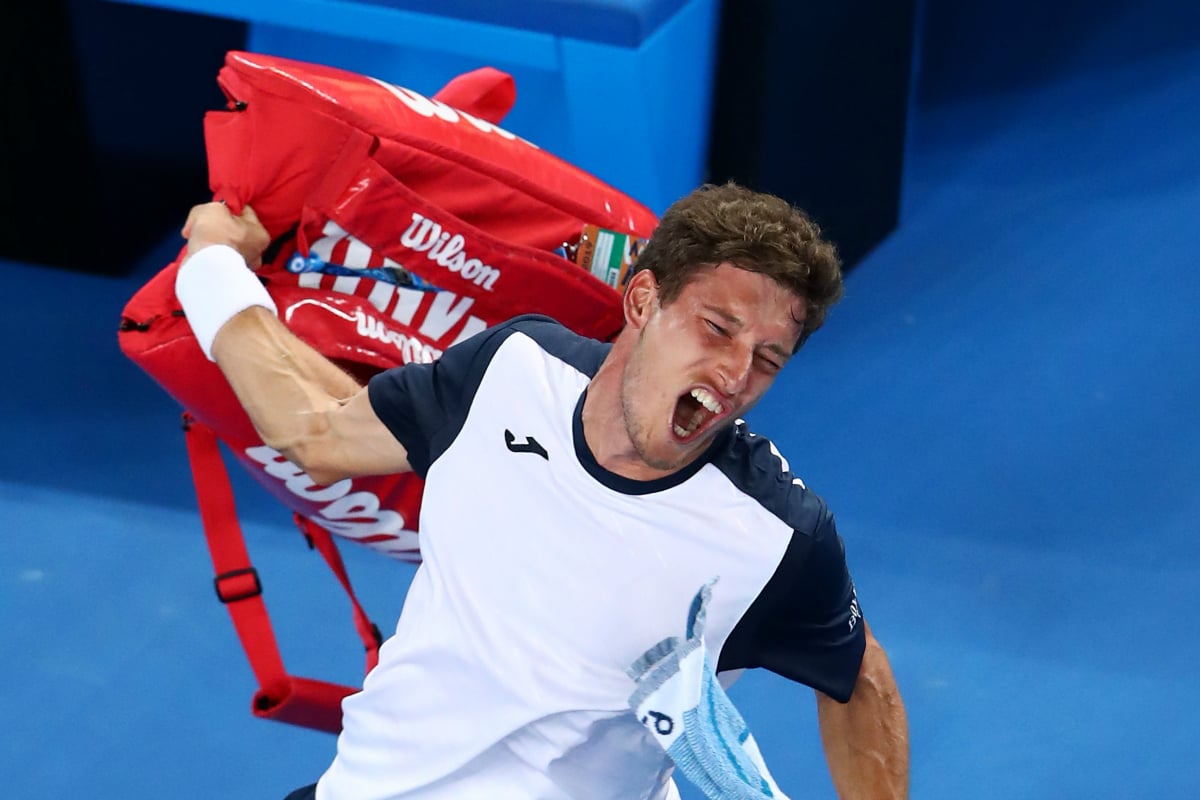 There's still three rounds of the Australian Open singles contest to go, but we feel perfectly safe calling it. The hissy fit of the Australian Open belongs to Pablo Carreno Busta.
The Spaniard was booed off the court last night, after he unleashed the kraken following his marathon five-hour, five-set loss at Margaret Court Arena.
Moments after Japan's Kei Nishikori clinched the fourth-round match, Carreno Busta shook his hand, embraced him, then walked back to his own bench. The 27-year-old then raised his racket over his head, appearing for a moment as if he might toss it, but… no, he restrained himself. Because why throw your racket when you can throw your entire bag?
The World Number 23 turned around, hurled all his (probably free… but still) gear into centre court, and let out a guttural scream I haven't heard since someone hid the chalk from the substitute teacher in Year 8. But oh, he was not done. Not even a little bit.
Carreno Busta then faced the umpire and shouted "cabron", a Spanish insult that loosely translates to "arsehole" or "bastard".
No mercy!

WATCH LIVE: @Channel9
FOLLOW LIVE: https://t.co/d5QpFbIguD #9WWOS #AusOpen pic.twitter.com/g13kLSQ98Q

— Wide World of Sports (@wwos) January 21, 2019
Behind-the-scenes footage captured the Spaniard continue his tirade as he made his way out of the area.
The spectacle was a first for player-turned-commentator, Jim Courier: "I have never seen anyone exit the tennis court, at a professional level, that hot, that heated," he said during the broadcast.
The blowup stemmed from a controversial umpire's call when Carreno Busta was 8-5 up in a fifth set super-tiebreak. The chair handed Nishikori a point after an overruled challenge, though the fuming Spaniard argued it should have been replayed.
Nishikori clawed his way back from there, winning the match 6-7 (8-10) 4-6 7-6 (7-4) 6-4 7-6 (10-8).
Pablo Carreno Busta was NOT happy after losing his five-set epic with Kei Nishikori. #AusOpen pic.twitter.com/1bQETjtUG3

— Sporting News Australia (@sportingnewsau) January 21, 2019