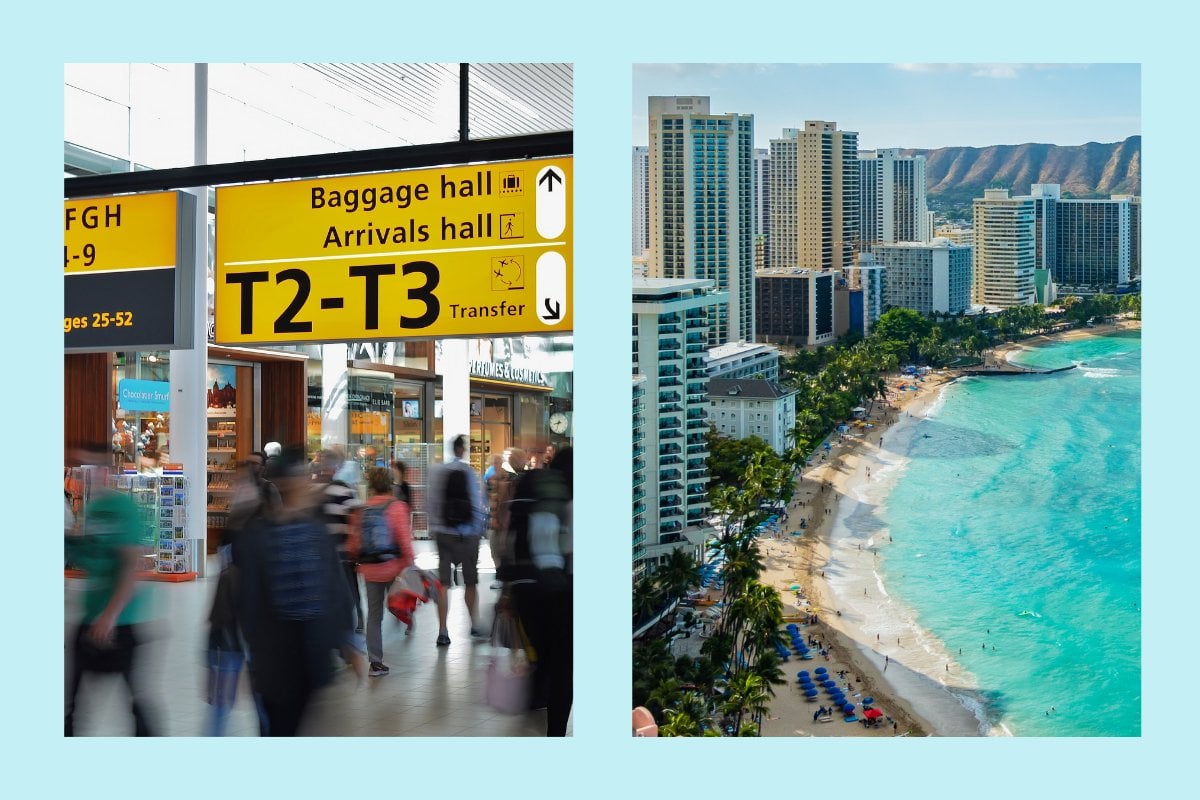 If you haven't booked an overseas trip for 2022 just yet, you've definitely thought about it.
With borders open and overseas flights back on, every woman and her dog has considered a much-needed holiday to somewhere other than our state. Thailand, anyone? Hawaii? SIGN US UP.
Watch: Horoscopes at the airport. Post continues after video.
But with limited information on international travel in a pandemic, and the current invasion taking place in Ukraine, the thought of booking a trip can feel overwhelming and uncertain.
What documents do you need? Where should you be going, and is it safe right now?
We spoke to two travel experts about everything you need to know about overseas travel in 2022, and spoke to a travel writer who's actually done it. Here's what they shared.
Where should we travel to in 2022?
The first question everyone's curious to have answered is where should you travel to? Where are other Australians going?
"We've seen already this year, Aussies searching for favourites like Bali and European capitals again, as well as Fiji, Hawaii and neighbouring destinations in Asia," a Skyscanner spokesperson told Mamamia.
"With flights and popular routes being re-established, we expect this number to continue to grow, as our trends show a strong desire for once-in-a-lifetime, big-ticket holidays in 2022, with over half of Aussies (51 per cent) planning to take longer trips this year."
Travel writer Evie and her daughter Emmie were on the first international flight to Fiji in December 2021. For her, being in Fiji was like being on a pre-COVID holiday.
"We didn't wear masks, we felt free, I drank cocktails and swam in the ocean," Evie told us. 
"The feeling of freedom and that the world was finally coming back was surreal. For those six days, we could forget all about the pandemic."
Read more: 'We just flew to Fiji. Here's everything you need to know about taking an overseas holiday right now.'
Is it safe to travel to Europe right now?
A few weeks ago, it felt like a European summer holiday was actually on the cards for 2022. But now with the conflict taking place in Ukraine, it's left many of us concerned about whether we should still book or potentially cancel those plans.
Kelly Spencer, the General Manager of Flight Centre Australia, says it's definitely possible to go, at least for the moment.