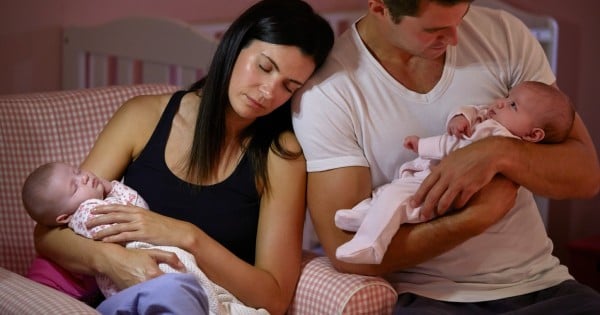 You can tell the new parents around town. Often they're bleary eyed , a little bit dishevelled and standing at the coffee shop with an air of desperation about them.
It's a right of passage, really. Newborns (and kids in general) mean you're tired. I try not to be a smug parent but I do have a little giggle when people without kids tell you they're tired. You don't know tired until you have children. And from that point on you learn to operate on a lot less sleep than you're used to.
But lack of sleep can be detrimental. There's tired, and then there's exhausted. The kind of feeling where everything piles on top of you. Where you feel like you can't cope. Where you're swamped in 'stuff' and your brain just doesn't have the capacity to deal. That's when you know you're sleep deprived.
Post continues below.
So what do you do when the sleeplessness gets too much?
Babies by nature wake frequently in the night. It's what they're designed to do. Their little tummies can't hold that much so they get hungry. They need cuddles and reassurance; they're only new in the world. They need changing. Often. They need help getting back off to sleep and that can really take it's toll on mum and dad.
But there is help for those who know where to look for it. Night time babysitters.
The greatest gift you can give a new parent is the gift of sleep and that's exactly what night nannies can do.