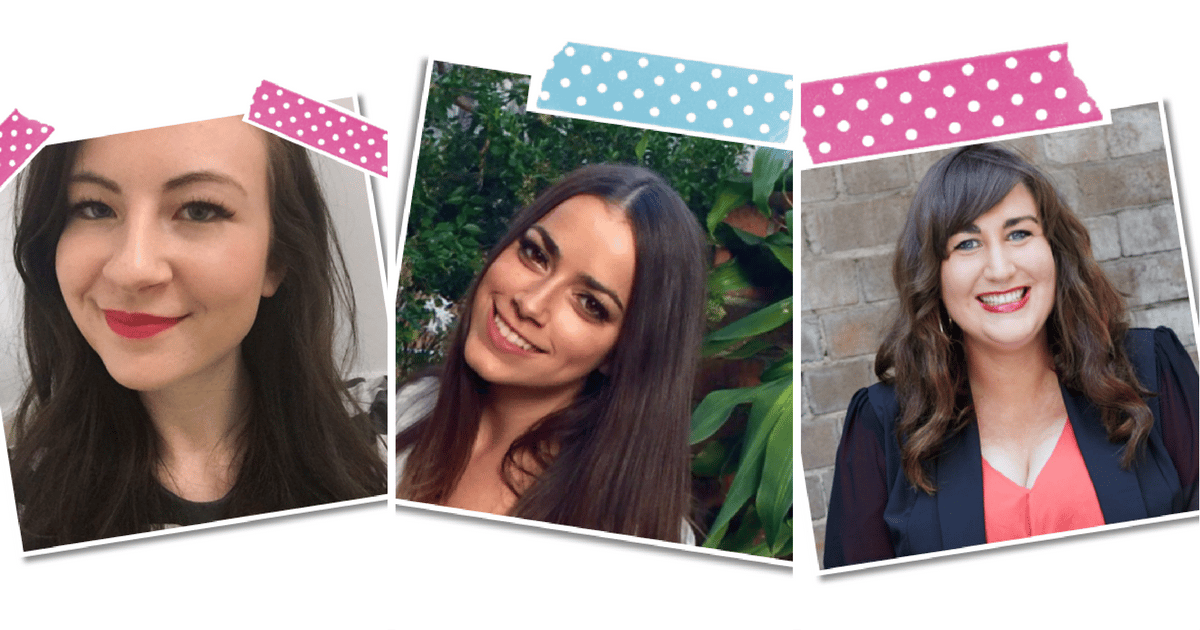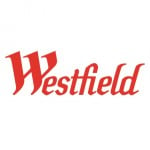 A new season brings new rules but the challenge remains the same: putting together a killer outfit from Westfield's Spring Summer 2016 collection on a budget.
We asked three of our Mamamia staffers to put together three different outfits at three different price points using three different trends – Tailoring, Denim and Luxe Glam.
Here's how they went.
Brittany Stewart takes on Tailoring for $300.
As someone who likes their sleep ins, I've tried to build my wardrobe to be foolproof – full of versatile pieces that can be mixed and matched in a number of ways that even my sleep-deprived Monday Morning Self can't mess up.
This is why I love the tailoring trend. Forget images of stuffy suits though- the pieces this season are simple, sleek and most importantly fit well, without being uncomfortable. Yes, they're office appropriate but they also work just as well for Saturday night or casual afternoons.  It's all about creating a polished yet stylish look that strikes the perfect balance between "I woke up like this" and "tried too hard."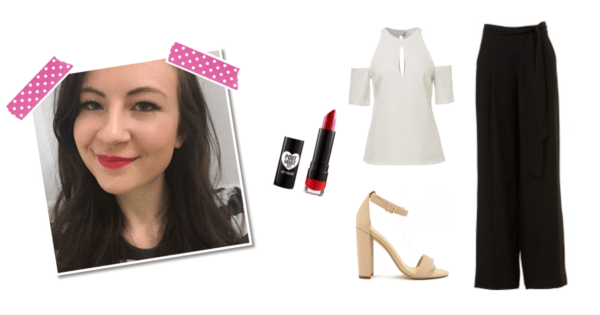 Image: Supplied.
Sportsgirl Wide Leg Belted Pant, $79.95
Up until last year, I was a strictly dress or skirt person - now I can't get enough of pants and this wide leg tailored pair is exactly the reason why. The high waist means that they're super flattering by helping to make your legs look longer, particularly when paired with heels. You can move in them, they're flowing rather than skin tight and they're perfect for dressing up and down.
Click here to browse more wide leg pants available from Westfield.
Sportsgirl High Neck Keyhole top, $59.95
A crisp white shirt is a style classic, but the cold shoulder and keyhole details of this top make it a stand out. It helps balance the potential primness of the trousers and is a bit more glamorous than a totally covered-up button up. I'll wear tucked in to really accentuate the waist of the pants.
Click here to browse more high neck keyhole tops available from Westfield.
David Jones Clip Earrings, $69.95
I've ditched the statement necklace completely this season and it's all thanks to the great range of bold bejewelled earrings in store. They're easy to wear, add a bit of bling and deliver maximum impact.
Click here to browse more  earrings available from Westfield.
Betts Ollie heels, $79.95
With wide leg pants, your shoes are likely to be hidden, but these are simple enough to do the job but nice enough to want to show off anyway. Strappy, not too high and a neutral colour with a difference.
Click here to browse more strappy heels from Westfield.
Sportsgirl Pout About It Lipstick in Bombshell, $9.95
When my outfit is all black and white, I feel like I need a splash of colour and a bright lip is the simplest and quickest way to do it. This classic red is my everyday go-to and the matte formula is a long-lasting winner.
Click here to browse more lipsticks available from Westfield.
Total: $299.75
Andi McDermott takes on Denim for $400.
When it comes to fashion and style I'm all about monochromatic colours and casual dressing. A peek inside my wardrobe reveals a sea of different tones of black mixed in with a few touches of grey and white.
My penchant for casual dressing means that denim and sneakers play a crucial part in my wardrobe, and my jean collection is larger than I would like to admit.
Naturally, I took on the denim trend this season, and my budget of $500 meant that I could find a perfect pair of jeans to style my outfit around.
Casual for the most part, with feminine touches here's what I've put together for my weekend 'off-duty' look.
Image: Supplied.
Nuew – Lola True Worn Jean - $179.95
These jeans are everything I love about this season's denim trend. Relaxed fit, tapered legs and a modern take on 'mum' jeans. Sign me up.
Click here to browse more jeans available from Westfield.
Adidas Stan Smith Originals - $129.95
My go-to shoe. The slim sole on these sneakers mean they can go with everything. Yes, everything.
Click here to browse more women's sneakers available from Westfield.
Glassons Square Neck Cami - $29.99
I'm a strong believer that you can never have enough black tops/singlets/blouses/camis. A black top can tie almost any outfit together, and instantly solve the problem of not knowing what to wear. This square neck cami, adds a feminine touch to an otherwise casual outfit.
Click here to browse more camis available from Westfield.
Witchery Clarissa Belt - $59.95
A denim-focused look needs a good belt to tie it all together. This minimalist and on trend belt by Witchery will become a wardrobe staple.
Click here to browse more women's belts available from Westfield.
 Total: $399.80
Laura Brodnik takes on Luxe Glam for $500+.
Coco Chanel once famously advised women that before they leave the house, they should take off one accessory.
Now, I'm not one to call Coco a liar, but this season more is definitely more. More lace, more texture, more detail and, most importantly of all, more sequins.
Fashion is meant to be lived in, experienced and enjoyed, so don't save your sequins and glam for a rainy day. Or some far off fancy event on the horizon. Embrace the Everyday Sequin.
Image: Supplied.
Cue Lace Spliced Dress - $310.00
This Cue black lace dress is the perfect outfit base for both day and night.
Click here to browse more lace dresses, tops and playsuits available from Westfield.
Miller's Sequin Bolero Jacket - $40.00
Not many people know this, but lace can pretty much act as a neutral. Throw a sequin bolero over it and you have a luxe mashup of textures that is glam enough to be found in the Hollywood hills.
Click here to browse more sequins and metallics available from Westfield.
Alannah Hill Jealous Heart Heel in Multi - $229.00
Add in just a hint of colour with the Alannah Hill Jealous Heart heels and you have an outfit that will make you feel like an extra on the set of Baz Lurhman's next film.
Click here to browse more heels available from Westfield.
David Jones Tiny Sequin Hard Frame Clutch - $69.95
Throw in a sparkly clutch and you're ready shine.
Click here to browse more clutch handbags available from Westfield.
Total Outfit Cost = $648.95
What items are you loving this season?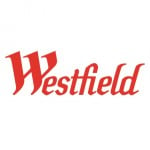 Be inspired to shop the front line with the latest Spring/Summer fashion and beauty at Westfield. Be inspired by the latest trends and shop over 250,000 products at westfield.com.au.