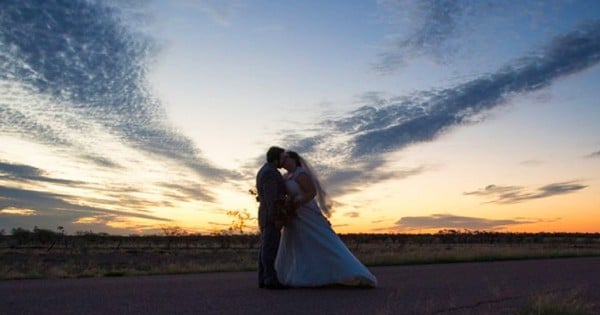 A West Australian couple seeking a destination wedding have tied the knot in dusty outback Queensland, in a move to boost drought-stricken local businesses.
Cameron Miskovsky spent his childhood in Mount Isa, and Heidi Erkkila, now Miskovsky, grew up in Ingham near Townsville.
The pair have been living in Southern Cross, Western Australia, about four hours inland from Perth, for years.
After a four-and-a-half year engagement, the couple started searching for a location to cement their love.
"It was a destination wedding from the start — the destination was up for grabs, I suppose," Mr Miskovsky said.
"We were obviously talking about all the coastal cities but for some reason Heidi just said Hughenden."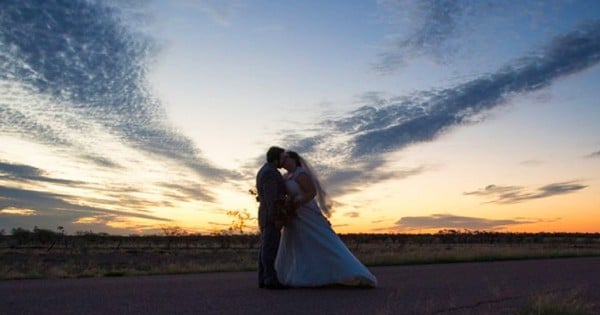 Hughenden is located around 400 kilometres inland from the Queensland coastline.
It has one main street, two small schools, and a dwindling population of about 1,000 residents.
The town is also halfway between Townsville and Mount Isa, allowing the couple to meet, quite literally, in the middle.
But the motivation behind holding the wedding in Hughenden was more than just an easy location.
"We have lots of friends that have businesses here, and I think it does help especially with the economy and the drought," Mrs Miskovsky said.
Around 84 per cent of Queensland is drought-declared, with Hughenden recently farewelling its fourth failed wet season.
"With the drought, the blokes, and the people out here have been struggling," the groom said.
"Knowing a lot of people on the land you want to try and give back to that community somehow."
Keen to help the fraught outback town, the Miskovskys planned a wedding for 120, bringing people from all over Australia to their celebration.
"Spending all of that money we had for a wedding — instead of giving it to somebody in the city, somewhere out here seems a bit more deserving," he said.