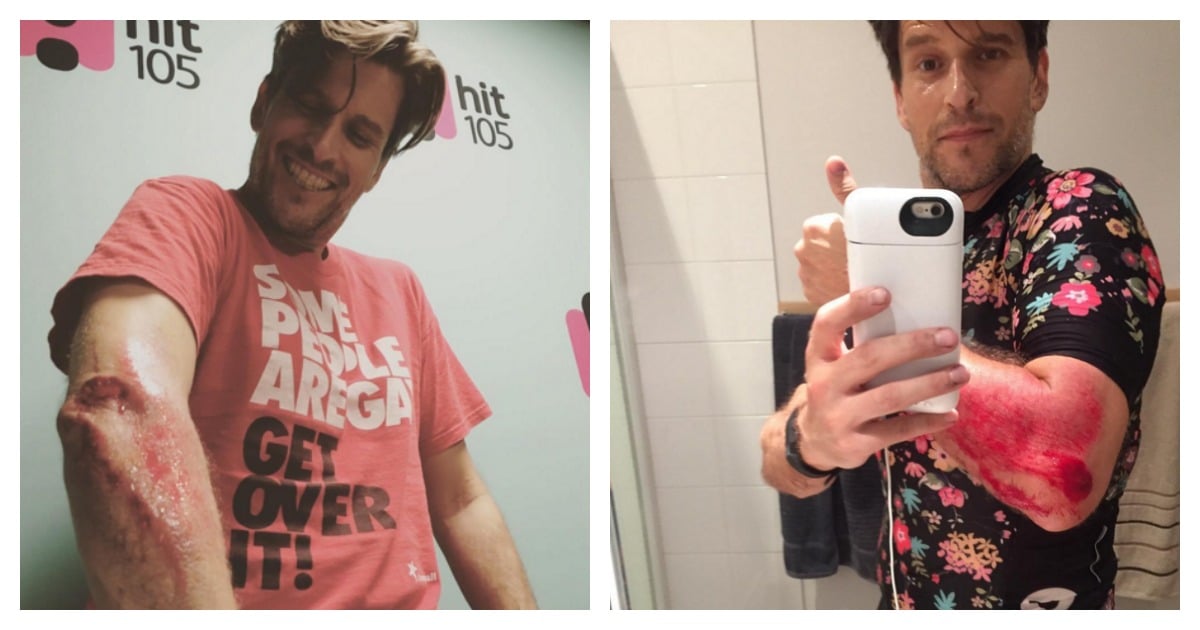 Osher Günsberg has experienced first-hand the dangers of cycling while on his way to the Hit105 Brisbane radio station today.
The 41-year-old TV personality was thrown off his bike when he hit an S-bend in a bike path. Talking on the air to fellow breakfast hosts Stav and Abby, the Bachelor/Bachelorette host knew he was in trouble when he slammed the brakes with only one hand on the handlebars.
The result? Quite a gruesome, bloodied forearm and a broken thumb to boot.
'It knocked the wind out of me,' he laughed about the accident, which occurred at 4:30am this morning.
"There are two types of cyclists: those that have come off their bike, and those that will," he said.
There was a silver lining to his nasty fall. A kind stranger stopped to ask if the husband-to-be was okay and offered his assistance, something Oshie tweeted his thanks for.
Ever the entertainer, that wasn't the end of Osher's Twitter activity for the day. His entire ordeal was documented for his fans:
Coincidentally, Osher's unfortunate accident occurred on the same day Sydney cyclists took to the CBD to protest new legislation which says they must carry identification.
Watch Osher discuss his move onto breakfast radio with The Project panel below (post continues after video).
The laws, due to come into action on March 1, will mean that riders caught without identification will be fined $106. Meanwhile, fines for not wearing a helmet will increase to $319, and running a red light will result in a $425 fine.
Are you a cyclist? What do you think of Sydney's new legislation that requires cyclists carry I.D.?