It doesn't sound too difficult: guard the winning Academy Awards envelopes with your life, then, when the moment is right, hand the correct envelope to the presenter and VOILA your job is done.
That's exactly what Brian Cullinan, one half of the two PricewaterhouseCoopers (PwC) employees who were in charge of the Oscars envelopes on Hollywood's night of nights, thought when he discussed his upcoming gig in an interview with Medium just two weeks before the ceremony.
"The producers decide what the order of the awards will be. We each have a full set. I have all 24 envelopes in my briefcase; Martha [his PwC partner who also works at the awards] has all 24 in hers," Brian said, when asked to explain his role during the show.
"We stand on opposite sides of the stage, right off-screen, for the entire evening, and we each hand the respective envelope to the presenter.
Listen: The Recap team debriefs on the drama of the 2017 Oscars. (Post continues after audio.)
"It doesn't sound very complicated, but you have to make sure you're giving the presenter the right envelope."
They're the words that are now coming back to haunt him after last night's epic blunder: La La Land was announced as the winner of the night's biggest award, Best Picture, before it was revealed Moonlight had actually won.
It's since been revealed that an envelope "mix-up" was to blame.
Envelope in Warren Beatty's hands read "ACTRESS IN A LEADING ROLE" when announcing Best Picture. https://t.co/naq6LCfSrE #Oscars pic.twitter.com/YmXWXcudfu

— ABC News (@ABC) February 27, 2017
In the same interview, Martha Ruiz said that as soon as they hand over the last envelope, "Brian and I meet onstage and head over to get something to drink very quickly".
But Brian added that it "doesn't end with the last envelope".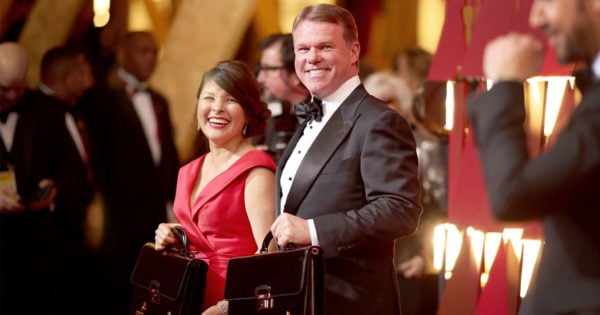 While he was talking about the fact he will keep the secrets of which film or actor was voted second or third, or how close the winners really were, his words have taken on an entirely different meaning after last night's mishap.
He also added that there had "never been a problem" with the envelopes in recent history.
Here's the moment #LaLaLand's cast and crew realized there was a mistake. #Oscars pic.twitter.com/XkHzXLJBsX

— Variety (@Variety) February 27, 2017
PwC has issued an official apology to all those involved in the Best Picture drama, and confirmed that an investigation is underway to determine what happened.
"We sincerely apologise to Moonlight, La La Land, Warren Beatty, Faye Dunaway, and Oscar viewers for the error that was made during the award announcement for Best Picture," the statement began.
"The presenters had mistakenly been given the wrong category envelope and when discovered, was immediately corrected. We are currently investigating how this could have happened, and deeply regret that this occurred."
Brian Cullinan - who was tweeting from backstage throughout the awards - has since deleted his tweets, with users saying he was too busy being "starstruck" to focus on his job.
@NanCassidy @briancullinan_ he was playing around on social media instead of doing a simple task. pic.twitter.com/Bf8KbgMU9l

— Jac (@GreenCheeksJac) February 27, 2017
@briancullinan_ Wow, you deleted your tweets from backstage and the one implying Emma didn't have the 2nd envelope! CYA doesn't look good!

— Nancy Kaufmann (@NancyKauf) February 27, 2017
Others were a little more understanding of what will arguably be remembered by Brian and Martha as their worst day at work ever.
"You are only human...it's just an awards show. Let's be kind," one person wrote.
"Not the end of the world...hang in there," wrote another.