The two people responsible for the infamous Best Picture mix-up at Monday's Oscars will not be permitted to return to the awards.
Cheryl Boone Isaacs, President of the Academy of Motion Picture Arts and Sciences, told the Associated Press that Brian Cullinan and Martha Ruiz have been permanently removed from all film academy dealings.
As well as overseeing the counting procedures, the PricewaterhouseCoopers representatives had been tasked with safeguarding the winner's envelopes. However Cullinan mistakenly handed the incorrect one to Best Picture award presenters Faye Dunaway and Warren Beatty, resulting in La La Land being announced as the winner.
Speeches were made, Oscars were handed out, until it was revealed the true recipient of the award was Moonlight.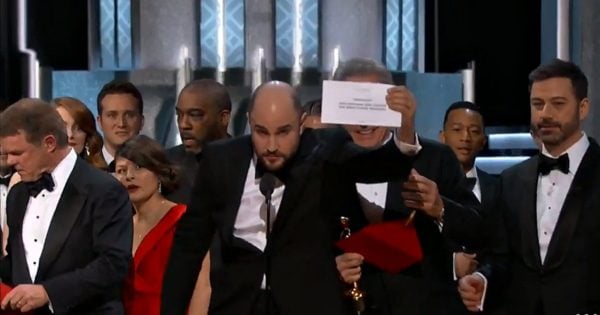 Boone Isaacs said Wednesday that Cullinan had been "distracted" prior to the mix-up, which is being hailed as the biggest blunder in the 89 year history of the awards.
Cullinan has been criticised for tweeting a backstage photograph of Best Actress winner Emma Stone just moments before handing over the errant envelope.
According to People, he was not permitted to use social media during the ceremony, but the time stamp on the now-deleted tweet reportedly showed it was posted at 9:05 p.m., a matter of minutes before the Best Picture blunder occurred.