We've rounded up all the news you need to know today, so you don't have to go searching.
1. Details continue to emerge about Pulse nightclub shooting in Orlando.
World leaders, authorities and the LGBT community have reacted to the horrifying shooting at a gay nightclub in Orlando, Florida that left at least 50 people dead in the early hours of Sunday morning.
At least 53 people have additionally been injured in the shooting attack, officials say.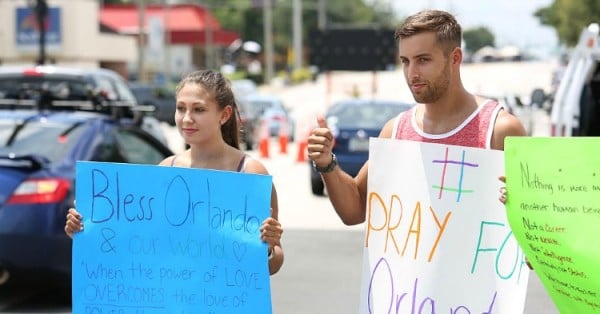 US President Barack Obama has called the attack an act of terror, and has ordered that all flags at the White House be lowered to half-mast in respect to the victims.
Orlando's Mayor declared a city-wide state of emergency.
Read about the shooting massacre here.
Other news in the Orlando shooting:
The ex-wife of the 29-year-old gunman Omar Mateen told The Washington Post he was violent and mentally unstable while they were married. "He was not a stable person," said the woman, who spoke to the US newspaper on the condition of anonymity. He would just come home and start beating me up because the laundry wasn't finished or something like that." Mamamia understands the woman, from Uzbekistan, met Mateen online and was married to him for two years.
Mateen first landed on federal agents' radar in 2013, after coworkers reported that he made "offensive" comments about radical Islamic propaganda. The FBI looked at him again in 2014 because of ties with an American who traveled to the Middle East to become a suicide bomber, NBC News reports. In both cases, agents determined there was nothing to warrant pursuing him.
ISIS has claimed responsibility for the shooting massacre in a statement, though the extremist group has offered no proof for its claim to the attacks. Law enforcement officials say Mateen, who is an American citizen born in New York, called 911 just before club shooting and swore allegiance to ISIS.
But Mateen's father spoke to media and denied his son had a religious motive, saying his son was anti-gay and had been angered by the sight of two men kissing during a trip to Miami. Sources told NBC News that Mateen didn't appear to have any direct ties with ISIS.
Republican presidential nominee Donald Trump has been criticised for tweeting: "Appreciate the congrats for being right on radical Islamic terrorism" in the wake of the tragic events.
2. Teens are taking up smoking to have smaller babies.
New research has found that pregnant teenagers are taking up smoking to reduce the size of their babies, The Daily Telegraph reports.
A decade-long study has revealed that Australian teens as young as 16 have seen warnings on packs of cigarettes about smoking reducing the birth weight of babies, and have seized on the dangerous habit because they're scared of giving birth to a large child.
Associate Professor Simone Dennis of the Australian National University said she was "stunned" by the disturbing finding, according to  The Daily Telegraph.
3. Vaccine sceptics gunning for NSW Senate votes.
Vaccination sceptics under the guise of a political party called the Health Australia Party have landed the coveted first column on the NSW Senate ballot paper, Fairfax Media reports.
Health Australia describes itself as dedicated to"stimulating individual freedom of choice and thought" on its website.
But Fairfax reveals that the party's policy manifesto "reveals a preoccupation with homoeopathy, home birthing and conspiracy theories about medical research".
The party also seeks to overturn the Turnbull government's 'no jab, no pay' policy -- which denies welfare benefits to families who won't vaccinate their kids -- and wants more research on so-called "adverse reactions" caused by vaccines.
4. Mother takes to social media to raise money for son's funeral.
A NSW mother started a crowdfunding campaign to help pay for her teenage son's funeral, after he died in a car crash in Mudgee.
Jack O'Malveney, 14, and a 16-year-old unlicensed driver crashed while trying to avoid a wombat in central west NSW this weekend, news.com.au reports.
The 16-year-old was airlifted to Westmead Hospital, where he died about 11am yesterday, after the accident in Munghorn, about 35km north-east of Mudgee.
Jack's mother, Leonie, set up a GoFundMe page with a modest target to try raise money for funeral costs, according to news.com.au.
A report will be prepared for the coroner.
5. Matt Golinski opens up about the loss of his three daughters and wife.
Matt Golinski has given a rare interview about the tragic loss of his three daughters Sage, Willow and Starlia and wife Rachael in 2011.
The celebrity chef, whose family died in a fire on Boxing Day 2011 after a Christmas tree caught fire, told the Sydney Morning Herald "If I sit and think about my girls for ages and the times we had, then it will drive me insane.
"I can let myself think about good times and be grateful for them. But then I have to let them go. Otherwise it becomes too sad," she says in the interview, which was printed on Saturday.
"You can talk yourself into believing that the world is against you, or that it's a personal attack on you," he adds. "But really, stuff just happens. Bad stuff. I just had to make a decision to get through it and get on with life."
6. Greens to preference ALP ahead of Liberals.
The Greens will preference the Labor party ahead of the Liberal and National parties in 139 of the 150 electorates across the country, Guardian Australia reports.
They'll also preference Labor ahead of the Coalition in every Senate seat.
But the Labor party secured a deal with the Liberals to get Liberal preferences ahead of the Greens in every lower house seat.
That will make it much harder for the Greens to take those two seats, Guardian Australia reports.
7. Amal Clooney to represent Yazedi victims of ISIS
Amal Clooney is set to represent Yazidi victims of sexual slavery at the hands of ISIS.
The international human rights lawyers' legal chambers, Doughty Street Chambers in London, confirmed that Clooney wants to prosecute ISIS in the International Criminal Court in The Hague.
"We know that thousands of Yazidi civilians have been killed and that thousands of Yazidi women have been enslaved," Clooney said in a statement on Friday, Daily Life reports.
"We know that systematic rapes have taken place, and that they are still taking place," she added. "And yet no one is being held to account."
What's making news in your world?