A hyper-organised pantry is the new humble-brag among mums. And it's not hard to understand why.
While the rest of the house becomes a dumping ground for clothes, school bags, plates and already-forgotten Christmas toys, the pantry can serve as a tiny sanctuary of order, a tucked-away haven where everything has a place (preferably a labelled one).
But if you can't quite find the time to colour-coordinate your sauce bottles, take a moment to feel the deep satisfaction and niggling jealousy that comes with looking at what could be. Like Danielle Holloway's pantry, for example.
The Adelaide mother of three has shared a video tour of her kitchen cupboard to social media, and good Lord! There are labels and systems and coordinated containers and and shelves and baskets and Lazy Susans.
Even the juice boxes have their own little tray. The juice boxes!
Since sharing the clip to Facebook group KMart Mums Australia on Sunday, Danielle has attracted more than 2,800 reactions and hundreds of comments, including several offering to pay her thousands to replicate the methodical marvel in their homes.
(Yep, it's a thing. A lucrative thing. Forty-one-year-old Tracy Bond launched a #LadyStartUp called Love My Pantry, and now spends her days organising strangers' kitchens and garages. The Young Mummy herself, blogger Sophie Cachia, is among Bond's clients.)
While it undoubtedly takes time to achieve a larder like Danielle's, she insists it doesn't actually take much cash if you know where to shop.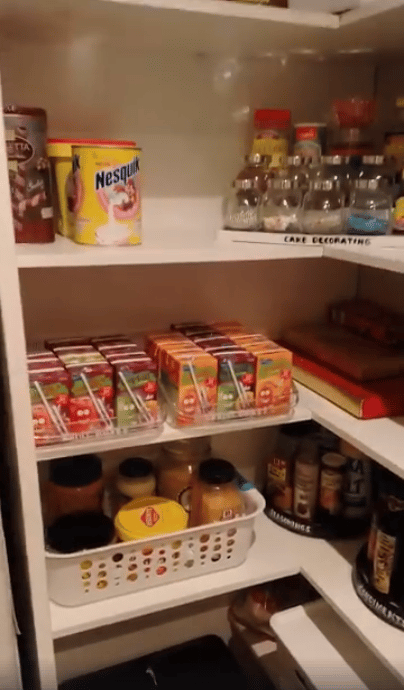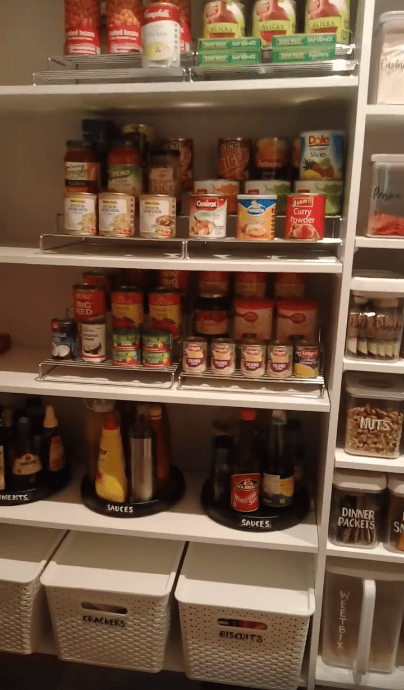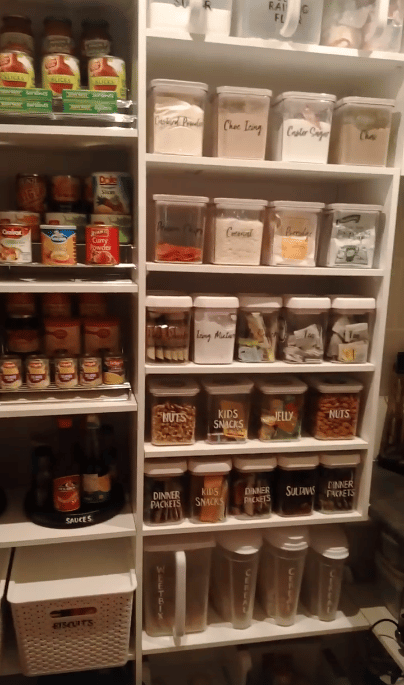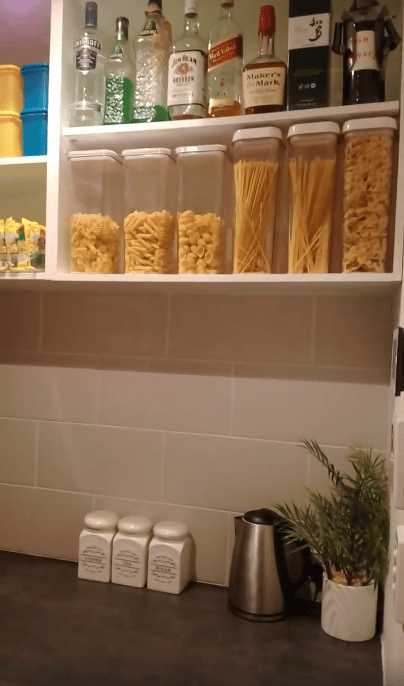 The labels are simply clear sticker paper and permanent marker.
The containers are a mix of Costco's Polder brand and Crofton from Aldi. The clear trays holding the poppas and noodles are from The Reject Shop and discount chain Cheap as Chips.
The chrome can shelves ($10.00), white baskets ($7.00), cereal containers($5.00-6.00) and storage turntables ($5.00) are all KMart.
LISTEN: We steal the five secrets of a 'clean house person' on our podcast for imperfect parents.

Danielle told Mamamia the whole thing set her back around $300, and while she purchased the various containers over time, it took her roughly a week of fiddling to achieve the perfect arrangement.
Of course aesthetics are a big part of it, but ultimately it's all about the functionality.
"See-through containers make it easier to see what you have and how much is left, and also to keep unwanted pests away," she said. "Tiered shelves are great for cans, as a lot of the time cans are stacked behind each other resulting in wasting time looking for certain ones [and accidental double-ups]."
While she's proud of the result, Danielle was surprised it achieved such a big response.
"I didn't expect so many people to love it," she said. "But I'm glad other people share the same happiness as me looking at a clean pantry."
Oh, we do. We really do.