1. So it turns out Oprah's birth name… is not Oprah.
Friends… there are some facts that when revealed manage to shake you to the core. For us that was finding out that Oprah's real name isn't actually Oprah. Did you know this? Did you?
Get ready for it… it's actually Orpah. Yeah… and you know what isn't Harpo spelt backwards? Orpah.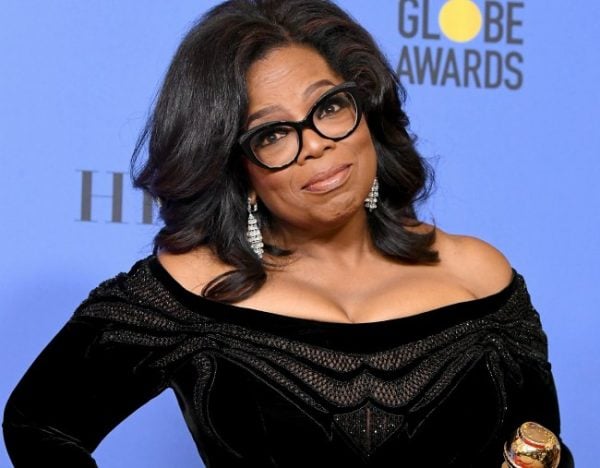 While it's not entirely new news, it's a fact not widely known and the media mogul herself hasn't spoken much about it.
Speaking about her name-change to the American Academy of Achievement back in 1991, she revealed that 'Orpah' was actually the name on her birth certificate, "but people didn't know how to pronounce it, so they put the "P" before the "R" in every place else other than the birth certificate."
"On the birth certificate it is Orpah, but then it got translated to Oprah, so here we are. But that's great because Oprah spells Harpo backwards. I don't know what Orpah spells."
Neither do we ,Oprah Orpah, neither do we.
2. Connie Britton expertly handles backlash over her Golden Globes jumper.
Some Twitter users clearly missed the point when Connie Britton decided to wear a sweater reading 'Poverty is Sexist' to the Golden Globes last Sunday night, calling the US actress out for the sweater's $380 price tag.
"So the trendy "Poverty is Sexist" sweater, worn last night by Connie Britton, sells for $380," one person tweeted. "How many people in poverty could afford one? What could that $380 done for a family in poverty? It's all Leftist hypocrisy and look at me I care. They don't."
Everyone can now stress-less, thanks to the former Friday Night Lights actress informing her followers that every purchase from the sweater's designer will see $100 donated to CamFed, a not-for-profit organisation dedicated to eradicating poverty in Africa through the education and empowerment of women.
God forbid an actress try to spark change in place of donning couture...
"I just don't think a $5000 gown would have added to the conversation in the same way," Britton wrote on Twitter.
Meanwhile Britton's stylist, Erica Cloud, told PeopleStyle: "It was genius and brilliant and I thought, this is the conversation we're supposed to be having. It's not really about the clothing, it's really about the message."
Hear, hear.
3. Alex Nation's new hair is short. As in, really short. 
There is nothing, we repeat, nothing better than a fresh cut to kick of the New Year. OK, holidays are pretty good. And champagne. Yeah alright there are lots of good things.
That said, changing your hair is one of the easiest ways to feel like you're making progress in January. And to let everyone know that, this year will be your year.
We're guessing Alex Nation is feeling pretty darn good right about now considering she's embraced the New Year, new me vibes and chopped off her blonde locks.
"New hair, who dis? Thank you to my hair angels," the former Bachelor winner captioned a pic of the transformation on Instagram on Thursday.
It's quite the transformation, and it looks brilliant.
She also looks happy, which is the most important thing.
LISTEN: What happened when the paparazzi 'outed' Alex Nation. The Mamamia Out Loud team discuss. Post continues after audio.
4. In today's Ricky Martin news: A secret wedding and a bizarre doppelgänger.
Ricky Martin is Livin' La Vida Loca no longa, with the singer confirming he is in fact married to partner Jwan Yosef.
"I'm a husband but we're doing a heavy party in a couple of months, I'll let you know," he told E!
The 46 year old said the pair had exchanged vows and signed all the papers and prenups required.
The couple got engaged in 2016 after seven months of dating.
In other exciting Ricky Martin News - yes, it's now its own subtype - fans have confused an throwback photo of the singer with Kendall Jenner.
Yes, that Kendall Jenner.
Nostalgic Instagram account 90s.coma posted the photo of Martin from the '80s.
"I thought that was Kendall Jenner!!" one fan wrote on the image.
We've got to admit as ridiculous as it sounds, if you squint you can kind of see it.
Until next time.
5. Sofia Vergara dares to eat pastry for breakfast. Becomes international news story.
There's something about celebrities being real people who actually eat food that we, the public, just can't seem to get our heads around.
How else do you explain Sofia Vergara making international news headlines by eating pastries and bread for breakfast?
You can find the full story, including our look into why this her meal was so controversial here.
LISTEN: On the latest episode of Mamamia Out Loud, the team discuss whether Oprah shoudl run for President, the Time's Up movement, coffee colonics, beach body confidence and how to actually put down your phone. Get it in your ears. Stat.