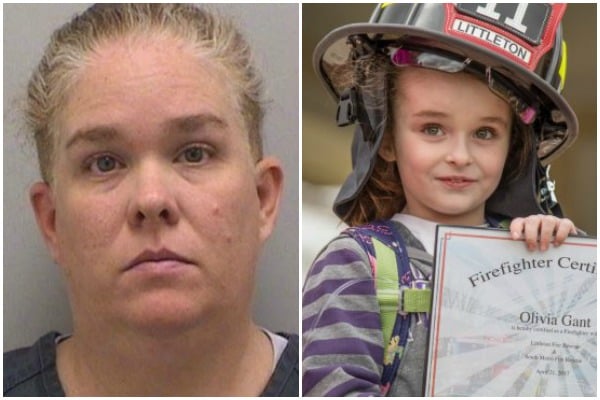 When Olivia Gant was six years old she was told she didn't have long to live, so her mum Kelly helped her make a bucket list.
She wanted to "be a fireman", "feed the sharks" and "catch a bad guy with police".
Olivia had a rare, incurable disease that had seen her have years of invasive procedures and countless hospital visits.
Olivia's mother Kelly has been charged with murder. Post continues after video.
Kelly and her two daughters had moved to Colorado in 2013, leaving their dad behind in Texas so they could access better medical treatment. But by 2015 Kelly claimed Olivia's recovery was near hopeless.
In a GoFundMe campaign, she wrote that in addition to "a tumor, developmental delays, seizures, autism, sensory processing disorder, focal cortical dysplasia, digestive issues and hydrocephalus," Olivia also now had neurogastrointestinal encephalomyopathy.
Her mum described it as a "degenerative mitochondrial disorder that causes the entire body to shut down a system at a time".
It would eventually lead to her daughter's death, she said.
In April 2017 Olivia's story was all over the TV and in every local newspaper, as she lived out her bucket list.
She got to ride in a police car, she hosed down a fire from a ladder and she saved a Disney princess while dressed as "Bat Princess" as part of a Make-A-Wish Foundation surprise.