With pink socks on her feet, pink flowers in her hair and a bedroom to match, Shirley Batchelder is a bright spark in her Nashville retirement home.
She loves to paint, she loves her family and she loved her husband, whom she was married to for 57 years.
He was a curly-haired man, "handsome as can be" and the one who meant she has had a "fantastic" life.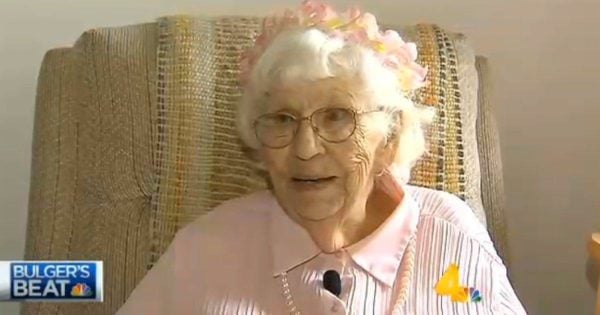 But as she entered into a period populated with bucket list tasks and talk of being your 'best self', Shirley had one thing left she still hadn't been able to complete on her own.
Some people like skydiving, others learning another language, and some, like Shirley, love love.
"I said there is one thing," Batchelder told WSMV. "I want to put an ad on television."
She wanted just five seconds on television, to purchase five seconds of American time, for a three-word message.
Instead, a local television station gave her a two minute segment for free, allowing her to spread her simple message.
"Love one another," she said. "Love one another."
Hold your heart, because that's all she wrote.