Forget Luna Park and laneway coffee. It's time to put on those tan boots and walk like a Proudman, because thanks to an Offspring walking tour, fans of Channel 10's runaway success can now relive their favourite Nina moments in real time.
Taking fans around the Proudman's favourite haunts in inner-city Fitzroy, you can take a look inside Darcy's real estate business, visit the scene of Billie and Mick's wedding, and head to the hospital where all of Nina's mishaps and dramas take place.
No word on whether or not you'll be taken to Nina's favourite boho scarf store, but a fan can dream, right?
Devout fans will also recognise some of the streets from Nina's many walking and talking freak out scenes. Because let's be real for a second, there were so bloody many of those scenes.
Listen: We discuss Offspring, and two other fantastic shows, on our TV podcast, The Binge. Post continues after audio.
When Offspring is filming, the two-hour tours will take up to 15 people at $39 per person. In the off-season you can also book a private tour for groups.
Despite seven hugely successful seasons, Offspring broke the hearts of many Australian viewers when they wrapped up filming in 2014.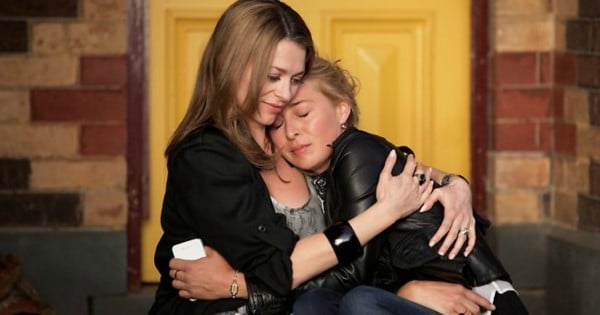 As Bec Sparrow wrote for Mamamia at the time: "Every storyline was wrapped up. Every character was sorted out. Darcy and Geraldine are back together. Mick and Billie reunited. Cherie and Clegg are on. God, even Elvis got a pash. We all know Zara is going to make a fantastic paediatrician with Jimmy by her side. Billie has finally carved her own place in the world. And Nina. I saw Nina and Zoe walking into their future with Nina's hand firmly in Leo's. And I bloody love Leo. Tonight those crazy Proudmans came full circle – albeit a little older, a lot wiser and with more kids in tow. And tonight I said goodbye to a group of people I have come to love very much."