There are fascinators, and then there are THESE fascinators.
Two racegoers took their headpieces to the next level at Thursday's Crown Oaks Day, festooning their heads with matching elaborate accessories that reportedly measured more than a metre high.
Interestingly, the Flemington punters' ornaments included pages from the Herald Sun and Age newspapers, intertwined with decorative flowers and leaves. To the side of the hats, huge white flowers extended down to shade the ladies' faces.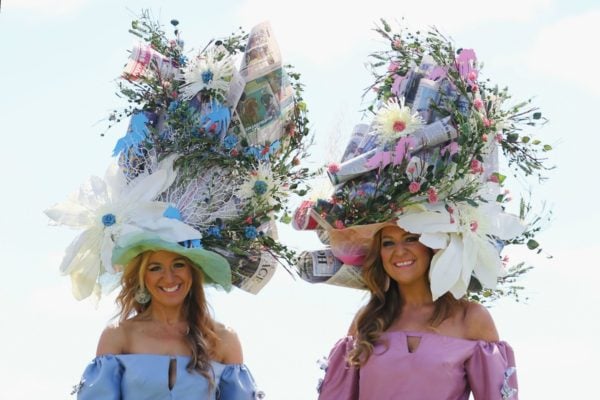 The two women, who are unnamed, wore matching off-the-shoulder frocks in blue and pink respectively, dotting their dress' colours throughout their mammoth headpieces.
Further afield, the fashion was all about dainty floral prints and lace. Highlights included (but were certainly not limited to) Nadia Bartel's burgundy headband, Alex Fevola's rose gold dress, and Rebecca Judd's butterfly heels.
Check out what all your favourite celebs wore below, and let us know in the comments what your favourite look from Crown Oaks Day is.