The minute you enter Nubo, you are aware it is not your average play centre. It is an "innovative new educational play space" said to be the first of its kind in Australia.
The massive indoor space in Sydney's industrial Alexandria has been designed with adults and children in mind. Classical music plays from high ceilings as children read inside a glass replica air-balloon and upstairs children play with wood toys.
At first glance, it's like something out of the pages of Home Beautiful magazine.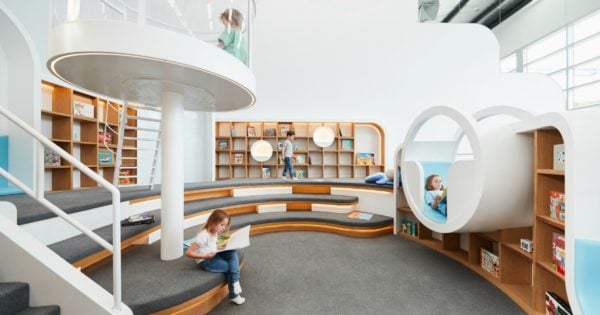 In these surroundings, you feel well dressed even with your shoes off.
Sydneysider Johnny, who was there on a Wednesday with two-year-olds Mac and Lulu, said he loved Nubo's beautiful design.
"It is so strange to come into a place for children that's pleasant for the adults to actually be in, as opposed to being surrounded by plastic crap," he told Mamamia.
Tracy Harrison, the centre's Imagination Manager, gave me a tour of Nubo's playrooms and explained their purpose.
"One of the premises that sits behind Nubo is seeing children as capable and confident and seeing them as equal contributors and we want to see children being viewed that way, so we've got some design features that do that," she said.