Women seeking abortions in New South Wales clinics may soon be protected from pro-life picketers, thanks to legislation introduced to state parliament on Thursday.
Labor MP Penny Sharpe tabled the bill to introduce "safe access zones" around reproductive health clinics.
Sharpe, who is the Shadow Minister for Planning, Environment and Heritage, told parliament that the 150m buffer would prevent patients and staff from intimidation and harassment by so-called "sidewalk counsellors".
"It is unacceptable that women are forced to look at distorted graphic images and told that they are murderers and are going to hell," she said.
"It is unacceptable that women are jostled and filmed. It is unacceptable that the dedicated staff are often followed and harassed on their way into and out of work."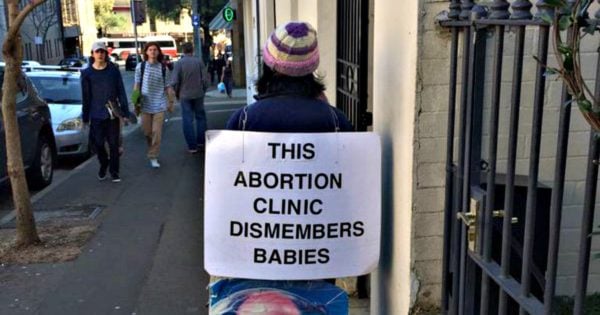 Sharpe stressed that the legislation was not intended to stop people from expressing their views, simply to prevent them from being an excuse for intimidation or harassment.
She said she'd been approached almost weekly by constituents concerned about the presence of protesters.
"[A] woman was accompanying her daughter to the clinic when she was horrified not just at the intimidation and threats that they endured," Sharpe told parliament.
"She also realised that the people out the front of the clinic had been filming her daughter as she entered."
Similar legislation already exists in the ACT, Tasmania and Victoria.
The first arrest made in accordance with Victoria's "safe access zone" laws occurred in August when mother of 13 Kathy Clubb was taken into custody for protesting outside an East Melbourne clinic.
She wrote on social media at the time that she was simply "offering help to aborting mothers" and wanted to bring attention to "totalitarian restrictions" placed on the pro-life movement.