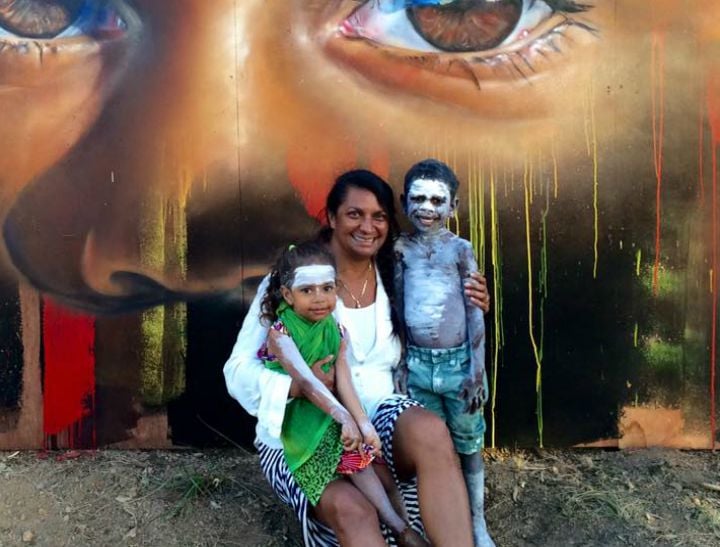 When Senator Nova Peris was subjected to an online racist attack earlier this week, she knew exactly how to respond.
Peris could have ignored the online rant. Peris could have discreetly referred the abuse to Facebook authorities.
But instead, the Norther Territory Senator called out the racism. And she did it by simply posting the racist rant to her own Facebook page and hashtagging it #ItStopsWithMe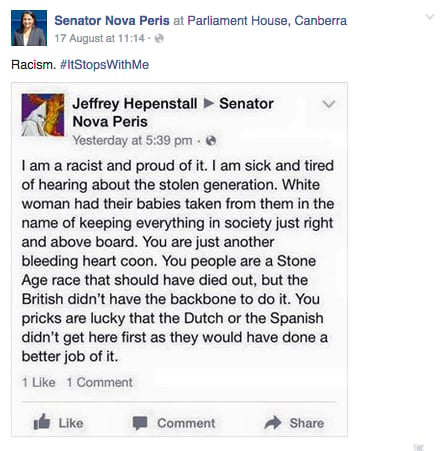 The post has attracted 1200 comments and been shared more than 1600 times in just two days. It has also sparked widespread online discussions about racial prejudice in Australia, in national media outlets and on social media alike.
Senator Peris told Mamamia today that Australians need to acknowledge racism in order to combat it.
"There are racist and bigoted views out there. I felt it was necessary to make that clear to the public and I did so without any hatred or malice. I simply showed it to my followers," Senator Peris told Mamamia..
"I tell people that racism stops with me. Part of that is not standing by and putting up with it, you need to call it out. People need to talk about it. People need to see it. This problem cannot be fixed without first recognising the problem."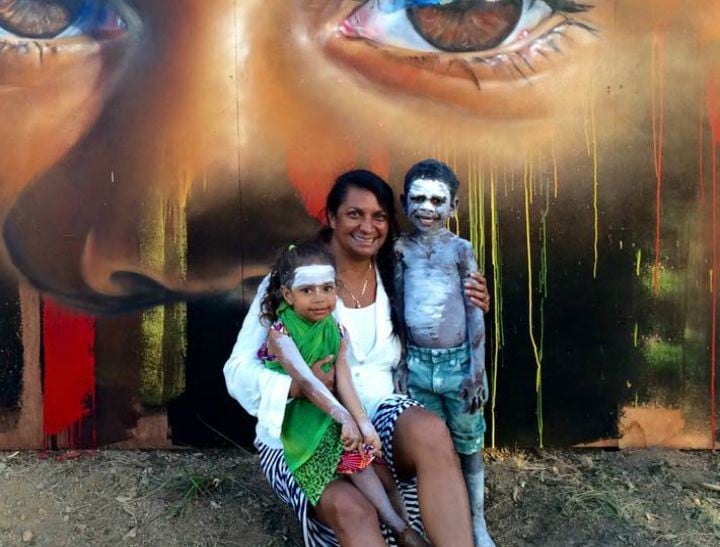 Sen Peris added that she was pleased with the outpouring of public support in response to her Facebook post.
"The reaction has been overwhelmingly supportive of myself and Australia in general," she said.
"My followers have made it clear that bigotry and racism is not the Australia they believe in. They believe in an inclusive Australia."
Some of the social media responses to the Facebook post. Post continues after gallery:
Sen Peris,whose mother, grandmother and grandfather were all members of the Stolen Generations, followed up the Facebook post by taking to the floor of the Australian Senate on Monday
There,  she shared similarly powerful words against racism in Australia.
Post continues after video:
//
"If we see racism or discrimination, let us not ignore it – let us fight it head on by having an open and truthful discussion and debate about it," she said.
Referring to the recent booing of Indigenous Sydney Swans player Adam Goodes, Senator Peris said: "My son idolises Adam Goodes. My son loves football. My son is also a proud Aboriginal boy.
"I want my son to feel okay about being Aboriginal and feel okay about expressing his Aboriginality."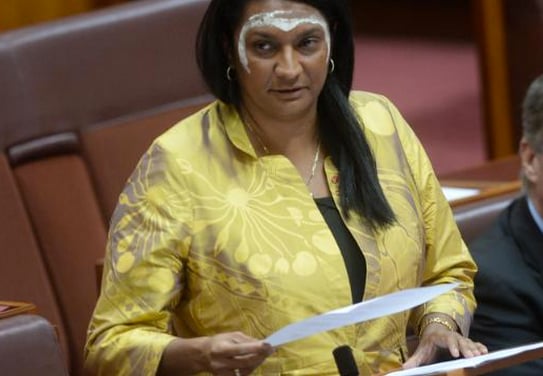 She added: "Let us educate ourselves about each other, about the deep hurt that people feel when they have been denigrated, vilified and made to feel less human by those who are weak of mind and mean-spirited… This isn't warm and fuzzy this isn't bleeding heart thinking, this is what makes Australia great."
Well done, Nova Peris, for saying what needed to be said.
Racism stops with all of us.
Related content:
Adam Goodes isn't "playing the victim." He's being silenced by thugs.
Charlie Pickering: "I know nothing about racism in Australia."
"What happened to Senator Nova Peris isn't a sex scandal – it's family violence."