Sunday nights are made for streaming, streaming, streaming… and pretending Monday isn't happening.
To help you out, we've had a lil' dig around Netflix and Stan and found five great old school TV shows that are perfect for chasing away the Sunday night blues.
There's a couple of classic Aussie dramas and a teen show that'll make you want to relive your glory years.
Get ready to binge on these bad boys:
Underbelly
If you haven't already binged your way through the Underbelly series, prepare yourself for a goddamn wild ride through Australia's seedy underground. There's gangland wars, drug deals gone bad, and prostitution rings.
The first season (*cough* the best season *cough*) follows the story of the 1990's Melbourne gang war which ended (kind of) with the arrest of Carl Williams, played by Gyton Grantley in the series.
Listen: Some of your favourite Aussie TV shows won't be returning in 2018. Post continues after audio…
It's worth a watch if only to see Offspring's Kat Stewart playing William's wife Roberta, and saying amazing things like, "Get off your own f**king a**s and get your own f**king chips".
She should probably come with her own language warning.
All six seasons of Underbelly are streaming on Stan now.
Party of Five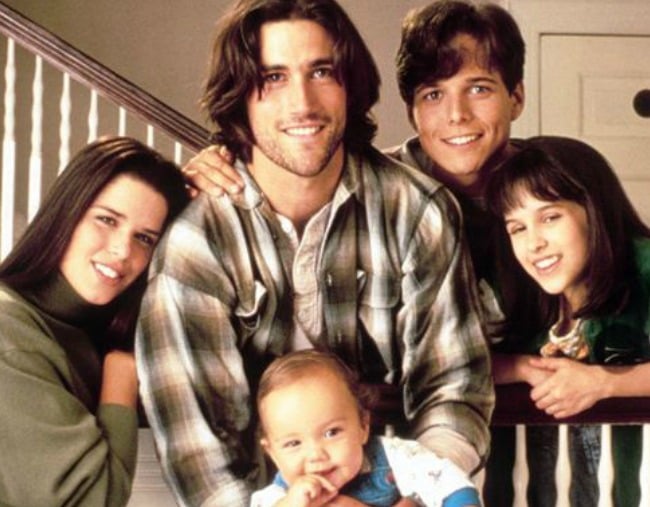 It's the TV series that launched the careers of Neve Campbell, Lacey Chambert, Jennifer Love Hewitt and Matthew Fox, and it's bloody 90s gold.
The series follows the life of the Salinger kids after their parents are killed in a car crash... there's five of them... hence the "Party of Five".
Somehow they all manage to keep turning up to school and paying the bills without parental supervision.
In a very 90s fashion, every episode features a drama involving one of the kids which is then wrapped up by the end of the episode with a nice lil' moral.
Did I mention Scott Wolf is in it? BE STILL OUR BEATING HEARTS.