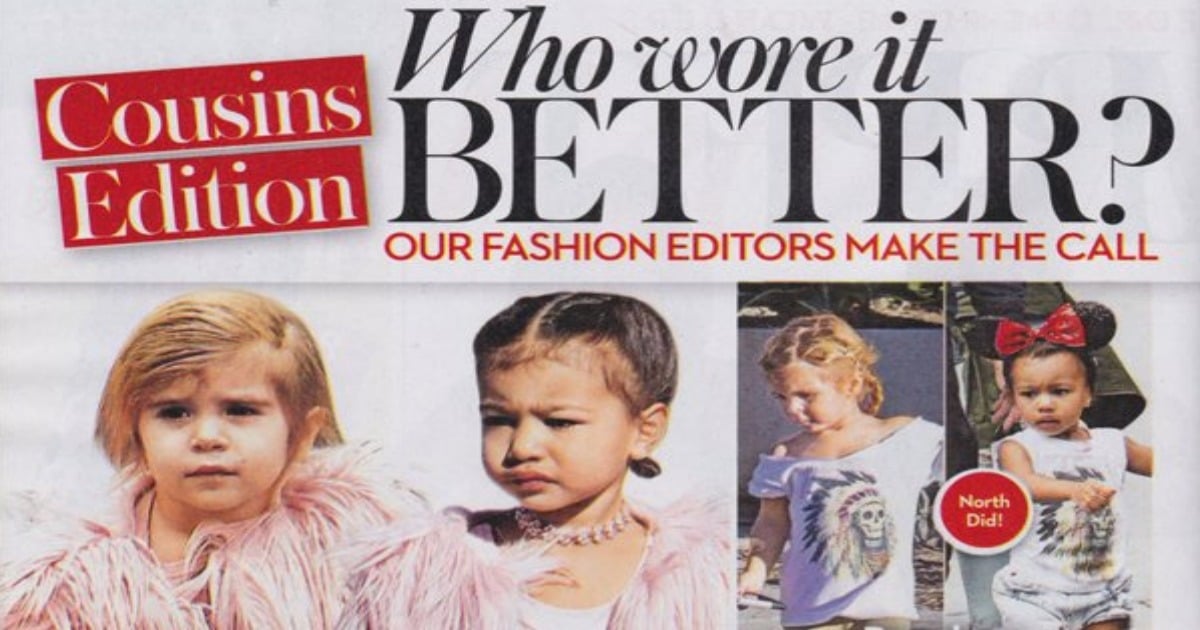 Who wore it best? The sparkly shoe? The feathered coat? The printed tee?
Who looks better, more fashionable, hotter in their metallics?
There's "Frocks and shocks", "Ratings out of ten," and "The best dressed list".
By now, we're used to it aren't we?
This dissection of celebrity bodies is nothing new.
It's certainly yawn-worthy. We see the comparisons in the celebrity pages of our newspapers and in the stacks of glossy magazines. For the most part we move on with a sigh and a harrumph at this outdated 1990's mode of classifying women.
When we have role models like Lena Dunham and Amy Schumer to look up to with their positive body image messages, is it too much to hope rating how females scrub up against each other would be fading out?
Well no, unfortunately it's not going away and now we are seeing the bodies and images being scrutinised and analysed belonging to not just celebrities, but their children – even those as young as two.
In a world where Kardashian saturation is commonplace, an article about North West should be so familiar that it hardly registers, but this one is hard to look past.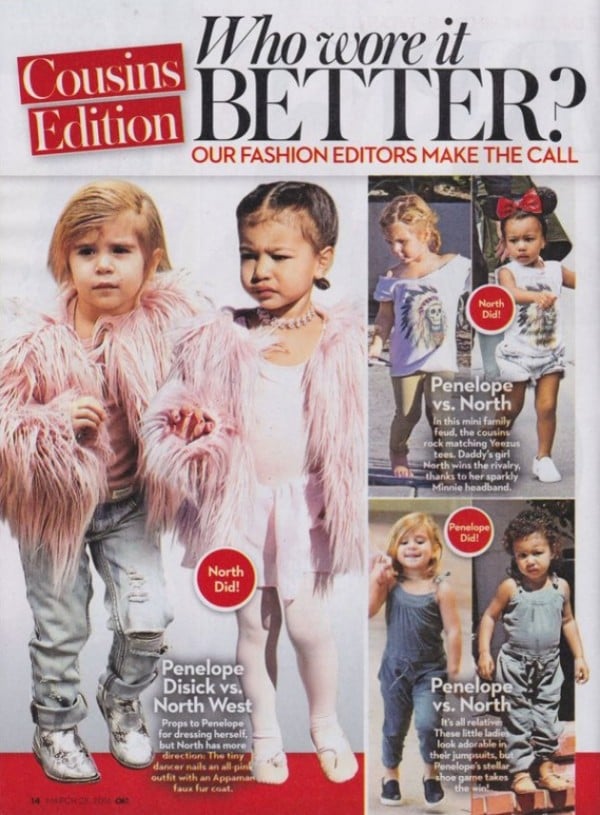 American tabloid magazine OK has reached what is being called "a new low" in celebrity reporting with a two page spread in its latest edition pitting North West Kardashian against her cousin, the daughter of Kourtney Kardashian and Scott Disick, Penelope. Celebrity toddlers cast against each other in a game of who looks better.
A two-year-old and a three-year-old carved up and spat out by a glossy magazine. In adults this kind of objectification is toxic enough, but in toddlers it's positively disheartening.
The two tots are only a year apart and being daughters of the famed reality family, are destined to face a life of time of scrutiny and comparisons, but the obvious objectification and stereotypical display of female against female makes you want to curl up and waste away your days binge watching reality TV.  
As the mother of a tiny girl myself it makes me sad that the objectification of toddlers becomes light hearted entertainment.
My four-year-old daughter enjoys a feathered jacket and a sparkly shoe as much as the next preschooler but it's not fashion, it's fun.
Sure, you could say that seeing as their mothers use fashion and image as their currency bringing their kids into the frame is just the next step.
There is the thought that before long, these celebrity kids will have their own platforms and will be pushing their own agendas. That their parents use the images of their children for their own glorification so why shouldn't everyone else?
A photo posted by Kim Kardashian West (@kimkardashian) on Dec 16, 2015 at 10:05am PST
But there is a difference between Kim Kardashian posting carefully chosen images of her own daughter and magazines exploiting them, carving them up, and creating facile fake feuds and rivalry.
I'm not saying we should stop looking at pictures of celebrity children.
I love a good video of North West as much as the next Facebook user, but we need to draw the line at ranking them and rating them.
She is adorable, after all. (Post continues after video):
We have an obligation to let children be children no matter who their parents are. An obligation to bring up a generation of kids who aren't' inundated with sexualised and objectified images and an obligation to our own children to move past the era of "who wore it best".