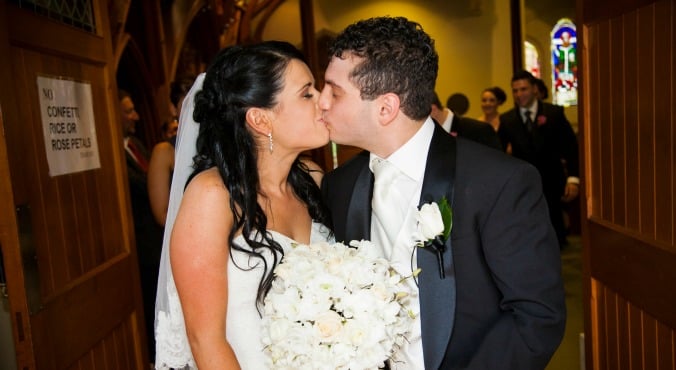 Image: Supplied.
Like so many brides before me, I used to be obsessed with having the elusive 'perfect' wedding day.
Being a control freak by nature, I assumed that if my preparation was impeccable, nothing could go wrong. I booked venues 18 months in advance, 99 per cent of my vendors were recommended by people I knew and the notes app on my iPhone quickly became full of lists as I tried to ensure that not a single detail was missed.
In an attempt to comfort me in my pre-wedding panic, well-meaning loved ones assured me that although something would probably go wrong on my wedding day, I'd be too loved-up to notice. They lied. I noticed every little thing that went wrong on my wedding day and you better believe they annoyed me.
To my surprise, instead of having a total freakout, I just kept smiling my best Kate Middleton-esque bridal smile and got on with it. (Watch: Brides share their one wedding regret. Post continues after video.)
It all started when the wrong wedding car arrived to pick-up my bridal party and I. Instead of a stretch limo that would also have room for my husband-to-be and groomsmen after the ceremony, a smaller car which only just fit the ladies showed-up.
Desperate to not break the tradition of not speaking to the groom before the ceremony, I made my matron of honour call my fiancé and organise for their car to hang around and transport the groomsmen after the ceremony, first crisis adverted.
As luck would have it, there was magically no traffic that day and we arrived 10 minutes early. My fiancé and groomsmen were still having photos outside the church. Irrationally terrified that my groom would catch a glimpse of me and our marriage would be cursed, I asked the driver to drive around the block a few times while I sat in the brace position. I was straight from the pages of a bridal magazine. Not.