We get it. Red carpet events are always going to be superficial – they're all about the clothes, the jewellery, the hair, the shoes – and time-pressed celeb reporters are always going to ask questions accordingly.
But at the American Music Awards on Monday, actress Nina Dobrev was asked something so shockingly shallow and irrelevant we had to re-wind just to make sure we heard it correctly.
While hoisting a copy Men's Health featuring the cossie-clad The Vampire Diaries star on the cover, E!News host Jason Kennedy posed the following question: "What are you eating these days?"
Yep.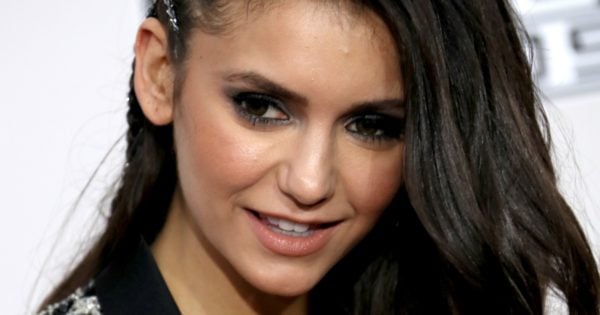 Nina Dobrev on the AMA red carpet. Image: Getty.
Just in case that wasn't cringe-worthy enough, he pressed on: "Are you working out twice a day? We want to know how you pull that look off. How do you get that body?"
Clearly caught a little off-guard, the 27-year-old laughed awkwardly before responding (with an impressive amount of restraint) that she's been lifting weights and developed strength she's never had before.
Thankfully, Kennedy took the hint and steered the questions back to her career.