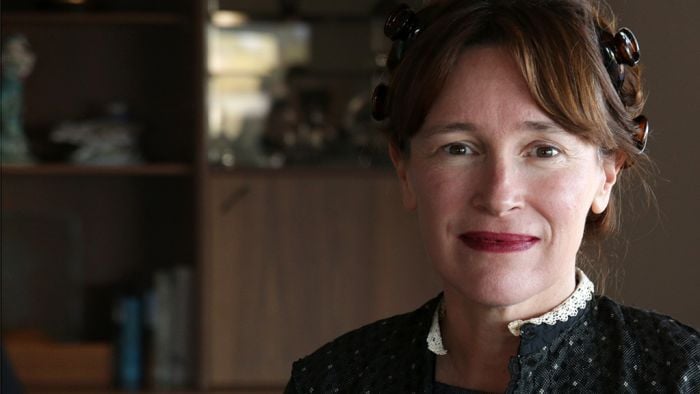 By Vanessa Gorman.
Nikki Gemmell could not bear listening to her elderly mother when she said euthanasia was the only way to release her from debilitating chronic pain.
"Don't you want to see the grandkids grow up?" Nikki would cry.
As she told Australian Story, she wanted her four children to grow into adulthood with their beautiful, fabulous Nonna — an empowered, independent grandmother who took them to shows and arrived with beautifully decorated cupcakes on their birthday.
Nikki knew her mum Elayn was in pain after a failed foot operation ended up causing leg and back pain. She suspected an opioid addiction was making her feel even more desperate. But nothing prepared her for the police on her doorstep one morning in October 2015.
"Mum had sat down on her favourite chair in front of the TV and ate pills like lollies and drank Baileys Irish Cream until she fell asleep," revealed Nikki's brother Paul Gemmell.
Blindsided by shock and grief, Nikki was aware that the police officers in her kitchen that day were also taking notes. Had she known about her mother's plan? Had she helped her in some way?
It suddenly dawned on Nikki that they were fishing to see if she had helped her mother to die.
Desperate for answers, Nikki and Paul searched their mother's apartment. Had she left a note with some explanation, some last expression of love? Was it an accidental overdose or a deliberate act? Were those clothes hanging on the door a suggestion for a burial outfit?
There was the trauma of identifying her cold body in the morgue the next day. The anxious wait for the results of the autopsy. The exhaustion of calling up her friends to break the news. Had Elayn talked to anyone of her plans?
But there was no note. No last expression of love.
And the autopsy would reveal Elayn died from multi-drug toxicity. In other words, an overdose.
"Mum's death was horrifically lonely and bleak because she couldn't tell anyone what she was going to do for fear of implicating her family and friends, so she did it entirely alone," Nikki said.
Empowerment or despair? Exploring the euthanasia debate
Like a detective, Nikki set out to piece together her mother's last months, days and hours. A prolific writer, she began to also explore the often tempestuous and difficult relationship that had dogged her life in a book about her mother's life and death.
"Mum was the love of my life and the hate of my life. When we were good, we were very, very good. When we were bad, we were horrid. We both knew how to hurt each other," Nikki said.
"If I had just one minute with her again, just a minute, I would just tell her, 'Mum, you were magnificent, you were so magnificent and I love you so much'.
"I feel like I never told her that in my life."