When Nicole Kidman won an Emmy for Best Actress at this year's awards, the world applauded her portrayal of a character who escaped a deeply violent home life and volatile relationship.
Her name was read, the room clapped, she stood to receive her award.
She kissed her husband and then, like it was the most normal thing in the world, kissed Alexander Skarsgard on the lips too.
And until now, she hasn't quite explained what happened, nor has she her thought process. Appearing on The Graham Norton Show, the host went to ask the Emmy-winner about her win. While showing an image of her kissing Skarsgard.
"Oh gosh. You are so provocative Graham. Why are you showing that?" she asked when the photo appeared.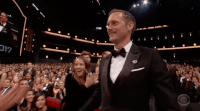 "It's a lovely moment of celebration Nicole," Norton replied.
"I kissed my husband too!"
She went on to explain the scenario. Kind of.
"I did kiss [Keith]. But you've got to understand I did everything with Alex!" she argued, referring to the emotional scenes to duo did together.
"We saw it!" Norton said.
"All right, I'm backing off," Kidman said.
"I've got an amazing, supportive, gorgeous husband who I love more than anything in the world and I gave Alex a congratulatory kiss and he's like a mannequin."
"I mean not a mannequin! I'm done," she laughed.
Oh, right, okay. No, that explains it. Perfectly.
LISTEN: The Binge breaks down the importance of the Emmys.