It was my last term in high school and exams were creeping up. My mum was on holiday in Fiji for her dad's birthday and my sister and I were at home with dad. We grew up being afraid to tell our dad girly things so me noticing my tummy had been getting bigger was kept a secret.
I'd wake up at five am every school day and jump on the treadmill thinking I was getting fat. Let's be real, what 17 year-old would think any differently?
I kept quiet for just over a month after noticing other problems. Lying in bed and looking down at my tummy, it would be on an angle; with the right side elevated and the left side normal. I still didn't say a word.
Come the morning of my physics exam, I had the worst diarrhoea (gross, sorry) and I literally couldn't handle it any longer. I called mum and asked her to leave work and take me to the doctors. Inside I knew I was going to find out something bad but still didn't say a word to mum.
We got called in to the doctors and I told my GP my symptoms. She suggested I lay on the bed so she could examine my abdomen. Oh my god, this was probably the most hilarious moment of this entire journey. She looks up at me and she's like "Are you pregnant? You feel around 25-30 weeks pregnant…"
WHAT?! My mum probably would have had a minor heart attack hearing that.
Of course, I denied that assumption but alas, they didn't quite believe me and sent me for an emergency ultrasound. The ultrasound results came back and it showed a nine centimetre mass growing near my uterus. My parents and I were panicking – we had no idea what this thing was.
A few days later I was called in for an MRI scan which would allow the doctors to be certain where this mass was growing from. They confirmed the tumour was growing off my right ovary and malignant (cancerous), before getting the exact dimensions.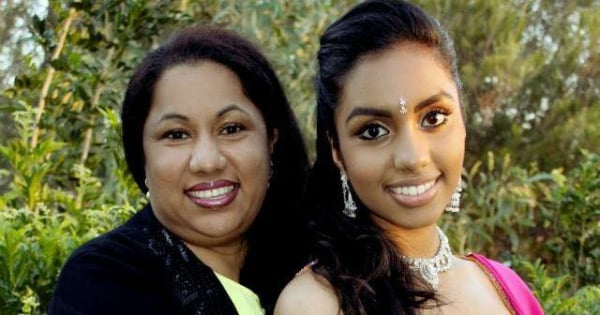 Nine x 23cm growing backwards… how the hell was this thing fitting inside my body?! It was the size of a football. The tumour started growing rapidly to the point I couldn't lay down or sleep as it was pushing against my back nerves. Doctors prescribed me Endone but that didn't kick in one bit.
Not only was the tumour growing quickly, it was very rare for a 17-year-old to have ovarian cancer. Ovarian cancer is normally found in women over 50 or who have had kids. The day of graduation, the class of 2012 were all ready to party down at the Gold Coast. I stayed for the presentation and made my way straight to hospital for more scans and tests.
Ten days later after the initial ultrasound I had a massive surgery to get it removed. They cut straight down my abdomen; starting just above my belly button. Once the tumour was out, it measured at 10.5 x 32 cm. I was high on happy gas in the recovery ward and was apparently asking everyone if my hair looked okay (typical me).