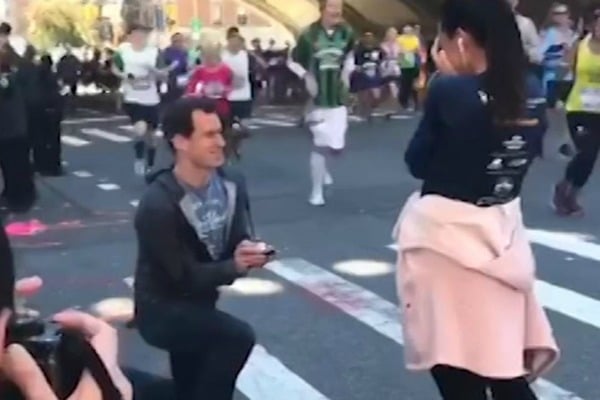 So, a man surprised his girlfriend by hopping over a barrier when she was in the middle of competing in the New York Marathon to propose.
How… nice.
According to CBS News, it was Kaitlyn Curren's first time competing in a marathon. She'd been training for a year and had no doubt been thinking about (and looking forward to) this challenge for months.
She was hitting the 16th mile – almost 26 kilometres – when her boyfriend Dennis Galvin interrupted her and got down on one knee and proposed.
Curren said yes, cried, and gave him a hug. Galvin put the ring on her finger before she said she needed to finish the race.
So off she went. To run the remaining 16 kilometres.
MARATHON PROPOSAL: A woman running in the New York City Marathon Sunday had quite the surprise at mile 16 when her longtime boyfriend hopped the barrier and got down on one knee. ????????https://t.co/bsYEkAQkPN pic.twitter.com/szNTGe2nCK

— CBS News (@CBSNews) November 5, 2018
It seemed… Ill-timed. Curren was more than halfway through completing a marathon – a huge personal achievement she had trained 12 months for.
She went on the complete the marathon in four hours and 24 minutes.
Naturally, Twitter had opinions:
OMG, I am STEAMING about the guy who proposed to his GF at mile 16 of her FIRST NYC marathon. What the actual fuck? What a shitty ass thing to do! She worked hard for that shit, and he made it about him. *growls*

— Katee Robert (@katee_robert) November 6, 2018