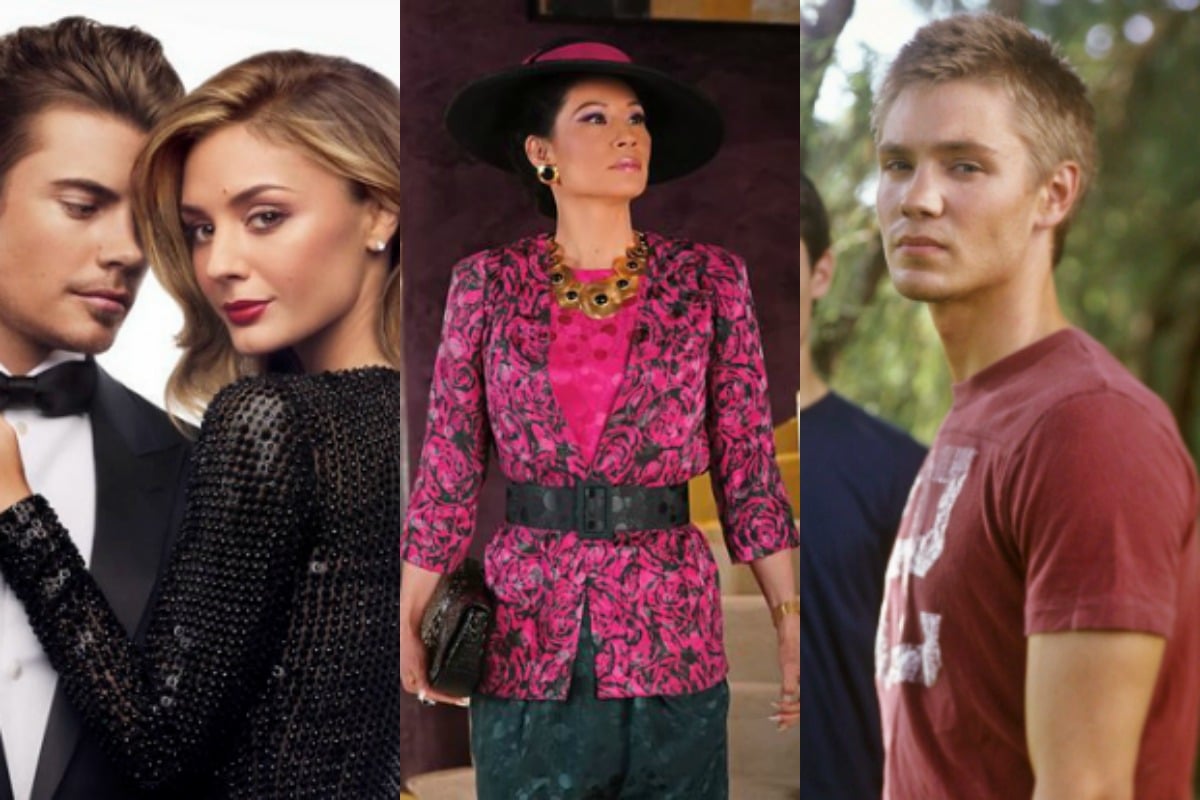 With an influx of new TV shows pouring onto our screens each week, the majority of Australians feel a sense of FOMOOGT (Fear Of Missing Out On Good TV)  in their bones each day.
There's always at least one flashy 'must-watch' series making its debut each week, which is why it's easy to miss the more under the radar shows that quietly premiere throughout the year or the misplaced classics that finally find their way onto streaming services.
With that in mind, here are the six best TV shows you probably didn't even realise you can watch in Australia right now.
The Arrangement
Here's a juicy, slightly trashy watch to get you through the weekend.
The Arrangement is about aspiring actress Megan Morrison (Christine Evangelista), who lands an audition for the female lead role in a blockbuster film opposite movie star Kyle West (Josh Henderson). While she ultimately doesn't land the role, she's offered a different sort of part to play by Terrence Anderson (Michael Vartan).
Terrence is the leader of the Institute of the Higher Mind, a self-help organisation of which Kyle is the prominent public face. In order to boost his public popularity and ward off rumours, Terrence offers Megan $10 million if she marries Kyle and agrees to play the part of his wife.
The show creators say the series is inspired by a number of Hollywood rumours about arranged celebrity relationships and is not hooked on one particular couple. However, fans of the series have long believed that it was inspired by Scientology and the rumoured "arranged relationship" between Tom Cruise and Katie Holmes.
Watch it on 9Now.
How To Stay Married 
If you're a fan of brilliantly made Australian comedy, here's a treat for you.
In a surprise move, Ten Play has just dropped the full second series of How to Stay Married, starring Lisa McCune and Peter Helliar, months ahead of schedule, so fans can have access to it while they are self-isolating.
In How to Stay Married the lives of Greg and Em Butler, who have been married for fifteen years, change forever when Em returns to work, Greg is made redundant and is tasked with raising their two daughters and an unexpected family member moves in.
Watch it on Ten Play.
For the biggest entertainment news of the week and a guide to the best new TV shows to watch, listen to The Spill. 
One Tree Hill 
Ok, so this is not exactly a new release, but it's still a vital public service announcement so it has to be included.
One Tree Hill is one of the most popular teen TV shows to ever grace our screens, which is why it ended up running for nine seasons, and for a long time, it was one of the few shows that was not easy to find on an Australian streaming service.
Until Channel 7 did us all a favour and added it to their service.
The series focuses on the lives of a group of teenagers in the small town of Tree Hill, in North Carolina. Season one kicks off when estranged half-brothers Lucas (Chad Michael Murray) and Nathan Scott (James Lafferty) both vie for spots on the school basketball team, and the drama (and eventual romances) between their two friendship groups intensify from there.