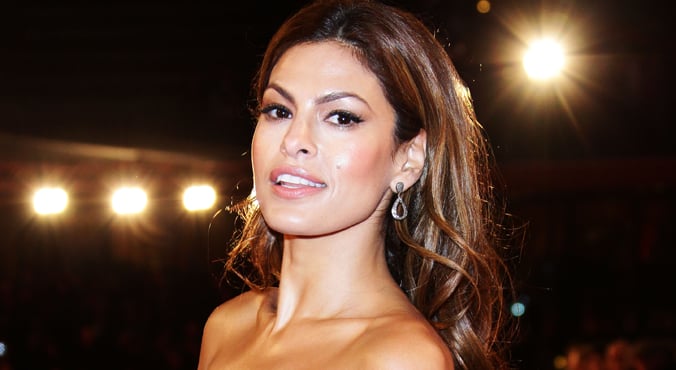 Image: Eva Mendes, who just had a baby with Ryan Gosling
There's nothing like pregnancy to make you hyper aware of what you're putting in and on your body. Suddenly you find yourself examining every ingredient list on every bottle of shampoo or moisturiser you're considering taking into your new life. While it's definitely not a time in your life where you are looking to add new products into your makeup routine, there are definitely a few swaps you can make for those times you've had zero sleep and need to be somewhere other than your local cafe hitting up a strong latte.
Swap your BB cream for illuminating primer
I know that a primer seems like an extra step that you do not need, but an illuminating primer makes your skin look like you've had eight hours of sleep, when you've actually had three. This won't be a popular opinion but I feel as I get older, BB and CC creams don't live up to their promise on my skin. I need more. More shine. More spak-filling ingredients. For me, illuminating primers are the best. If you can't be bothered adding an extra step to your routine, mix a little into your regular foundation.
Try: Laura Mercier Foundation Primer Radiance, $45, or NatioAgeless Illuminating Primer, $16.95.
Swap regular mascara for tubular mascara
If you're expecting or thinking about it, there's one thing you should know. Having an offspring does something to your emotions and you will cry at things you would never previously have cried over. A sappy insurance ad? Yes. An episode of Bold and the Beautiful? Yes. Anytime they won't go to bed? Yes.
Try: Mirenesse Secret Weapon Mascara, $39.95.
Swap makeup remover for wipes
In times of mammoth exhaustion I've been known to wipe my face with baby wipes, even the flushable just-meant-for-poo ones. I don't really recommend that, when I'm operating with full mental faculties in place, my favourites are Josie Maran's Bear Naked organic wipes, followed closely by Wotnot's Organic wipes.