Sydney mum of two, Becky Feiner – who co-created Mum's Milestones – has designed a new pictorial alphabet for Australian kids.
After looking for an Alphabet poster for her son's room, she found sweet but "mundane" art and wanted something with more impact than B for banana.
"I wanted to brighten up my kids' rooms, and help them learn the alphabet while learning about some of Australia's Legendary figures at the same time."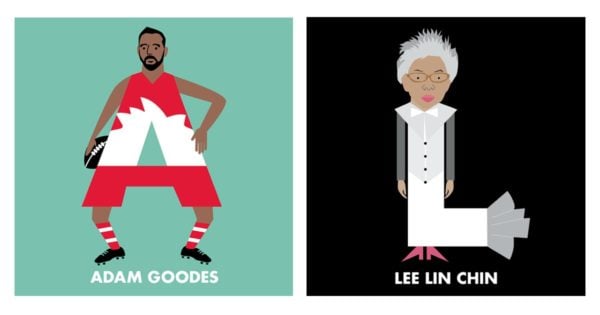 That's how the Aussie Legends Alphabet was born.
Although the graphic designer wanted to make a poster for kids, many adults without kids have taken a keen interest too.
"I guess it's got a couple of layers to it. You know, like The Simpsons, it's got something for kids and something for adults alike. If kids and adults can enjoy it - well, that's a win-win."
"I wanted to show everyone - especially kids - that a diverse range of people have made Australia awesome. This includes different race, gender and cultural backgrounds. In this current political climate, it's important for kids to see how important diversity really is."
Feiner's favourite letters include A for Adam Goodes, E for Eddie Mabo, D for Dame Edna, J for Jimmy Little, L for Lee Lin Chin, K for Kath and Kim and V for Victor Chang.