Last weekend, I sat down to watch a newly-released film on Netflix filed neatly under the genres of "adventure" and "action comedy".
Two hours later, and much to my surprise, I was a mess.
Clutching my cushion. Wiping my cheeks hot with tears after an aggressive spell of ugly-crying. Questioning decisions I have made in life. Regretting the homemade beef tacos I'd just eaten for dinner.
And all because of an enormous CGI "super-pig" named Okja.
This one: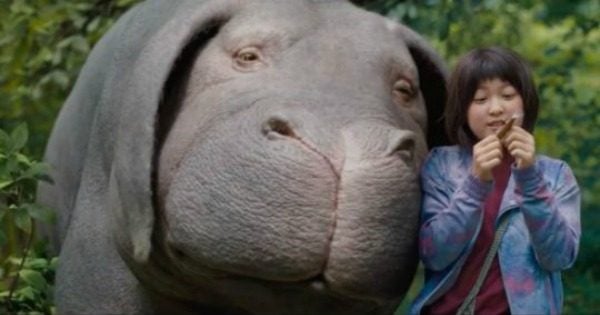 The eponymous film is directed by South Korea's Bong Joon-ho (you might be familiar with his 2013 post-apocalyptic thriller Snowpiercer) and starring draw-cards including Tilda Swinton, Jake Gyllenhaal and Paul Dano.
Okja follows the story of one of a new breed of genetically-engineered "super-pigs" being peddled by their creator - a mega meat corporation named Mirando - as organic and ecologically safe.
Twenty-six piglets are sent to different farmers around the world as part of a competition to find the best environment to raise the new species. Ten years later, one of the super-pigs will be crowned the winner.
It's at this point that we meet the adorable, marshmallow-like Okja, who is in the care of a South Korean farmer and his young grandaughter, named Mija.