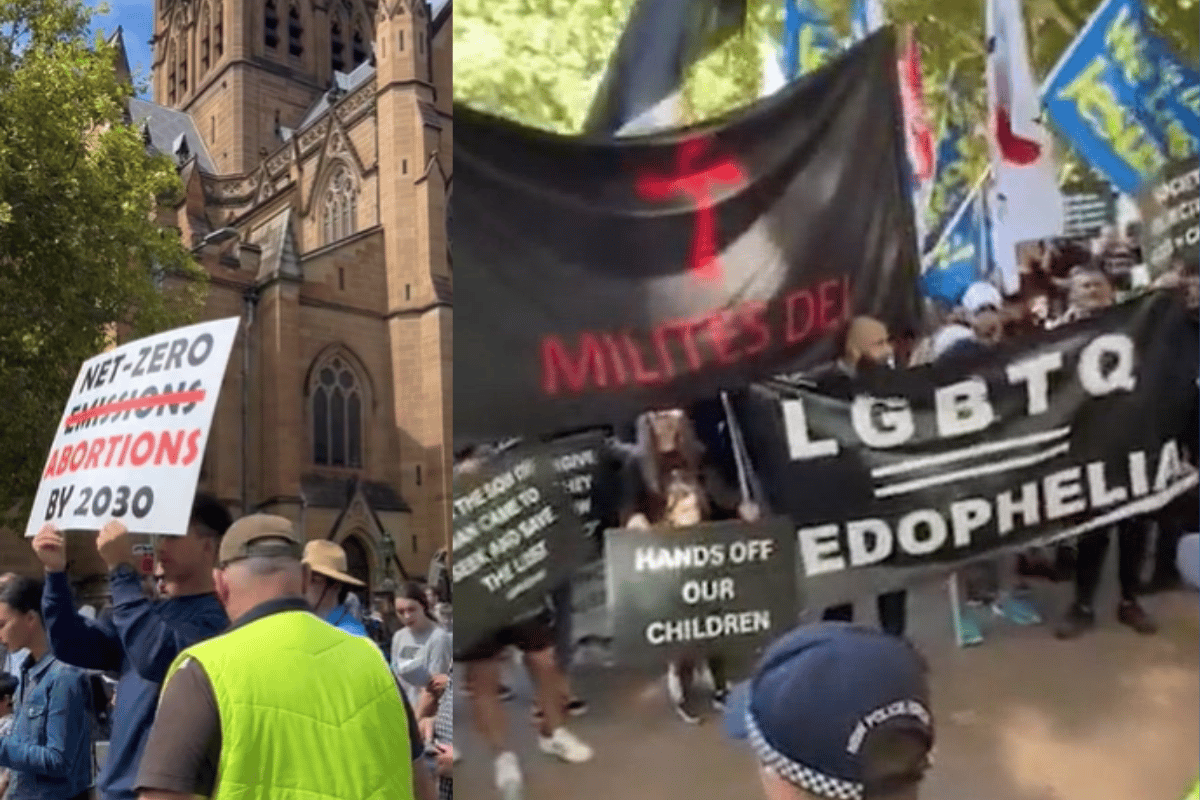 If you've been plugged into the news, you may have seen a countless number of anti-LGBTIQIA+ protests taking place across Australia.
Many of these protests have marketed themselves under the guise of protecting 'women and children's rights' and 'religious freedom', some associating themselves with the movement 'Christian Lives Matter'.
But when you dig a little deeper, it's far more complex. And concerning.
Dr Kaz Ross is an independent researcher into extremism, conspiracy and the far-right. She says that in Australia, we're seeing the far-right declare themselves far more openly — and lean on extremist Christian ideologies as a shield.
Firstly, what is 'Christian extremism?'
Over the last few years, we've seen a rise in the so-called 'freedom movement' — think anti-vax, anti-government, pro-conspiracy and so forth. Dr Kaz Ross explains to Mamamia that initially, this group was a pretty mixed bag of people.
But recently, the movement's dominant narrative is now vigilante 'Christian' extremism.
"We've seen this rise of Christian rhetoric and talking about doing 'God's work'. This is really parallel with something we saw in America under Trump. It ties into another conspiracy, QAnon, which is a very Christian, saviour-complex, apocalyptic vision," she says.
It should be noted that critiques on Christian extremism aren't an attack on the religion of Christianity itself — rather the minority extremist ideology that has risen from it.
The rising visibility of right-wing extremism in Australia.
Alt-right and extremely conservative ideologies have been on the rise in the US for a long time now, evidenced by legislative changes such as changes in access to abortion and the restrictions on drag queens as well as the proliferation of conspiracies such as whether horrific school shootings actually happened, the storming of the Capitol.