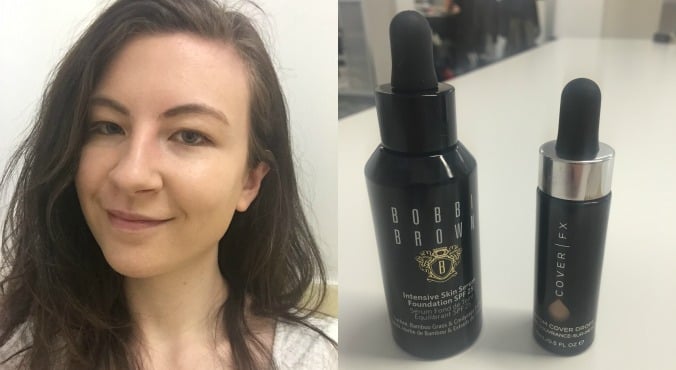 Image: Supplied.
I used to think there were just two types of foundation: liquid and powder. How naive I was. Now I've been educated in the foundations (…ahem) of beauty, I've learnt my creams from my cushion compacts and mattes from mousses.
However, they've all been given a serious step up thanks to the latest innovation: foundation drops. Looking like something straight out of a science lab, these foundations come in heavy glass bottles with pippette-style droppers that dispense the perfect amount of product each time.
The point of difference? They're designed to be added to existing products such as other foundations, primers, moisturisers or sunscreens to alter colour and coverage as you wish. Best of all, the latest versions also pack the product with vitamins to benefit your skin. Pure genius.
I put Cover FX Custom Cover Foundation Drops and Bobbi Brown's Intensive Skin Serum Foundation to the test. (Post continues after video.)
Cover FX
Working as a pigmentation booster, Cover FX's Custom Cover Drops ($62, available at Sephora) is one of the most popular droppers. Available in an incredible 24 shades, organised by skin tone, it's easy to find the right one to customise your face products.
"They can be mixed with anything water, oil or silicone based such as moisturisers, serums, oils, primers, foundations and tinted moisturisers," says Cover FX's senior education and regional sales manager Brett Gallagher.