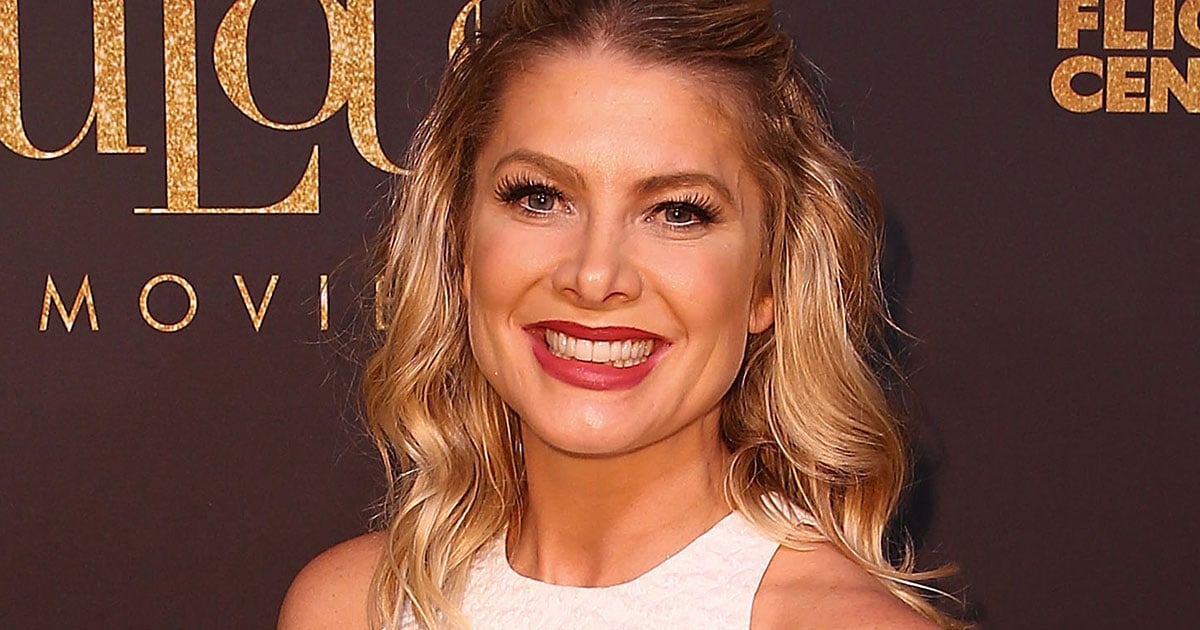 I was halfway through asking singer and actress Natalie Bassingthwaighte about her life as a mum in the spotlight, when her three-year-old son Hendrix piped up in the background.
"Can you give me one minute, buddy?" Nat asks her son, laughing to me afterwards, "This is what happens when you're a working mum!"
Natalie – affectionately known as Nat Bass to her fans – has been a staple of the Australian entertainment scene since she appeared as Izzy Hoyland on popular Aussie soap opera Neighbours in 2003.
But it's only recently that her roles as an entertainer and a mother have begun to collide.
Her recent turn as legendary motor racing driver Peter Brock's girflriend, Julie Bamford, in TV mini-series Brock was her first return to acting since her two children were born.
"They didn't get to see much of that show, it was a little too grown up for them!" Natalie admitted to Mamamia.
But that didn't stop her six-year-old daughter Harper from recognising her famous mum on the screen.
"One of the ads came up where I was kissing Matt [Le Nevez] and Harper was like, 'Oh!'" she laughed.
"I said, 'I'm just acting, it's just pretend'. She said, 'I know mum!' But I don't know if she really comprehended…"
Despite Harper seeing her famous mum as "just mummy", Natalie said her daughter is beginning to understand more and more about life in the spotlight.
"The other day she was playing with the iPad and she said, 'Mum, it's you, Natalie Bassingthwaighte, here's your song!' Her friends were over and she put it on," she said.
Of course, growing up under the spotlight also has its downsides, like being followed by paparazzi.
"One of the little girls [at Harper's school] bought in a picture at the beginning of school with a paparazzi shot in a magazine. It was of Harper and myself.
"Her little friend thought it was just amazing, she was so excited. I don't know if Harper…she was like, 'What is that? What do you mean?'
"I don't know if they totally get it, but it's just their life."
Bassingthwaighte's most recent project is one that is very close to her heart: she's been named as one of ten Australian female finalists in the Twinings Design Challenge.
Alongside other famous names like Carrie Bickmore, Nicole Kidman and Samantha Armytage, Bassingthwaighte has created a unique artwork that could inspire the pack design for Twinings' latest tea launching next year.
The money raised from the sale of the packs will be donated towards a charity of their choice, a prospect with Natalie describes as "better than the Logies".
"It's your vison in a piece of art that could potentially be on a packet of Twinings tea, and if you win, your charity gets all this money. It feels amazing, it feels good," she said.
Natalie has chosen to support Sister2Sister, which provides year-long mentoring designed to empower 'at risk' teenage girls to turn their troubled lives around
"I had great mentors and I feel very lucky but not all young girls have that," Natalie said of her connection with the charity.
Natalie Bassingthwaite stops by the I Don't Know How She Does It studio:
"A lot of these girls come from broken homes and very disadvantaged environments. I know how important it is to have guidance and to have people to help mentor and shape your life and I really think that it can make a complete difference to the happiness of your life and the success you might have.
"I love it and I think it's definitely needed in today's society to make great women."