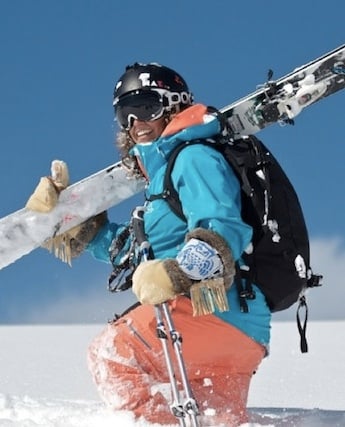 You have to be a little bit crazy to do what Nat Segal does every day.
She's a 26-year-old Australian big mountain skier that spends most of her days throwing herself down enormous mountains and, well, hoping for the best.
Nat started her skiing career at the ripe old age of two. She comes from a family that's very into the snow (her sister is Anna Segal, Aussie Winter Olympian that placed fourth in the ski slopestyle event this year) and pursued freestyle, mogul, downhill and freeride skiing for many years, before starting to compete in international big mountain competitions.
For those who are unfamiliar with skiing terms and want to become a bit of a ski expert in less than five minutes (well, we are launching right into winter):
Downhill skiing is what your average skier does when they go skiing; go up the hill on a lift, come back down the hill on a run. Sometimes really quickly.
Freestyle skiing is the tricks that are done off man-made features at the snow, such as rails, boxes and jumps.
Mogul skiing is the skiing over bumps that have been formed in the snow.
Freeride skiing is what is involved when you ski the whole mountain and use the natural features to do tricks and jumps. It's a case of navigating the natural terrain that hasn't been moved around by humans.