*For the record, this is not an advertisement. It's just so good I needed to share. Seriously. So, so good.
For years, I dodged back and forth between various liquid foundations.
MAC Studio Fix! Revlon Colour Stay! L'Oreal True Match! One that came in an aerosol can! Various other nondescript foundation fads I don't want to remember!
They were all good. But on some days they made my skin go a bit dry – others, my forehead would resemble a disco ball, crying out for the sweet embrace of mattifying powder. On the worst days? A lovely constellation of zits would surface, condemning me for wearing bloody liquid foundation in the first place.
I'd read online about women finding their "holy grail foundation" with envy. WHERE WAS MY SKIN-COLOURED MAGIC FLUIDY LIQUID?! AND WHY COULDN'T I FIND IT? WAS IT ME? WAS I DESTINED FOR A LIFE OF MEDIOCRE LIQUID FOUNDATION?
It truly was the epitome of a first world problem that only a white, middle class gal like me could have.
Then, one day, when Chadstone's MAC store was all booked out for Saturday afternoon makeovers, I was forced to give Mecca a whirl.
And holy highlighter am I glad that I did.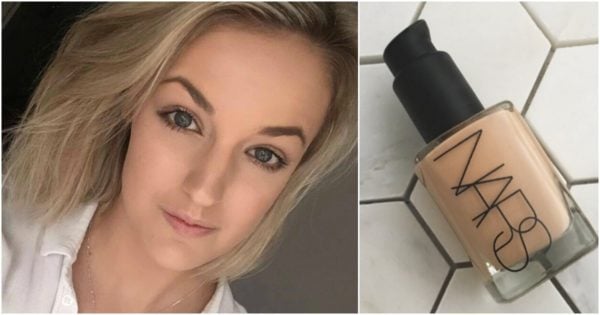 The goddess human at Mecca introduced me to NARS Sheer Glow - a dewy, hydrating foundation that costs a cool $66.
"Holy sh*t," I thought. "$66 kahunas? $66 big ones? $66 of my bloody hard-earned clams? That's a lot to ask for a freakin' glorified pot of face paint."
It was then I remembered I'd spent approximately $65 on a tequila fish bowl and nachos the night before, and handed my debit card over to the goddess human with my head hung in shame.
That was two years ago. And I've Never. Looked. Back.
This foundation is the best bloody thing I've ever gotten my mitts on. It's my equal favourite beauty product EVER (equal only to Zoe Foster Blake's 'Face Hero' - you've seriously gotta try that too).