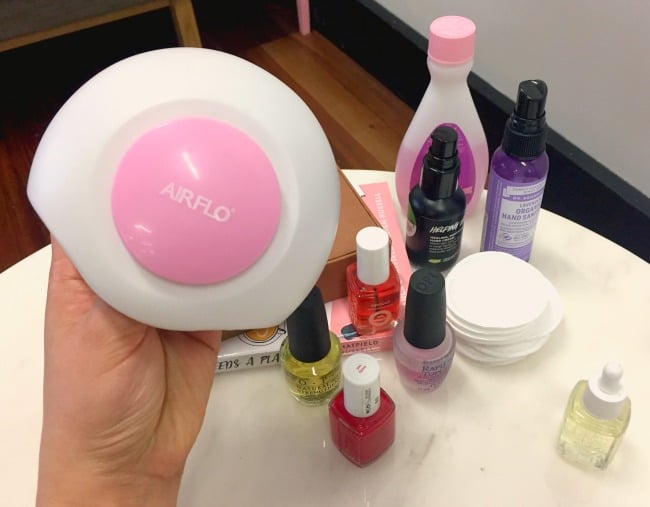 It's Murphy's law that whatever can go wrong will go wrong, and it feels like that rule applies double in the 20 minutes after you've finished the last step of your manicure.
Nail enthusiasts will know the struggle of spending upwards of 15 to 20 minutes clipping, filing, painting, base-coating and top-coating your nails, only to have they ruined by a rogue table corner, or the sudden need to go to the toilet, really, really bad.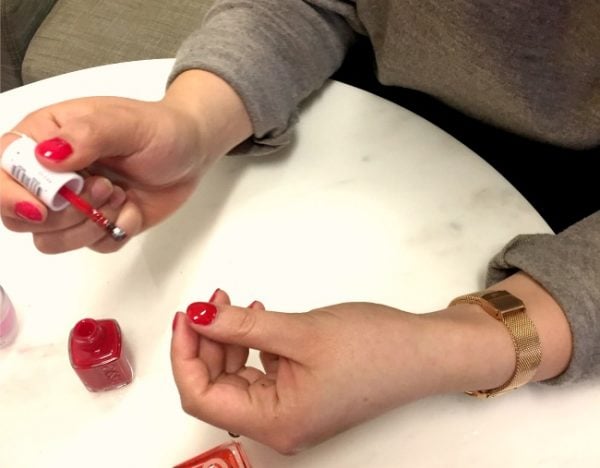 The good news is that we've found a gadget that'll fix that problem quick smart, and you can buy one for the cost of lunch.
We present to you, the AirFlo Nail Polish Dryer, which helped me get my nails from unpolished, to lacquered and dried-to-the-touch in roughly 10 minutes.
Here's how.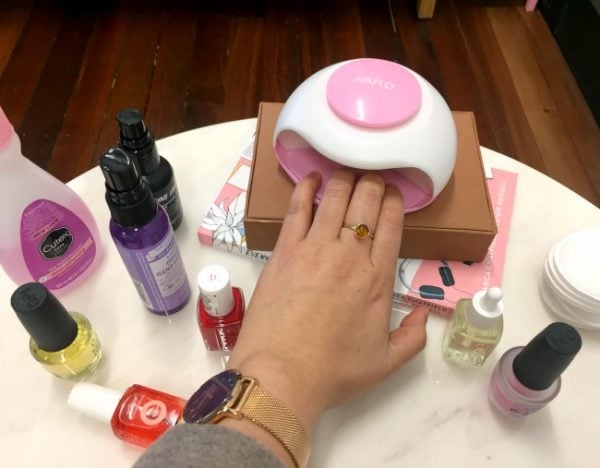 What is it?
The premise of the Nail Polish Dryer is spectacularly simple, yet ridiculously foolproof.
It looks like a gel-manicure curing machine but instead of UV light it's a battery operated fan. The device contains a handy touch-reactive 'nail plate' which means all you have to do is insert your fingers into the mouth of the machine and press down. You'll hear the soft whirling of the fan and know it's working.
Just keep in mind that you'll need three AAA batteries to operate the dryer.
You can also use it on your toes by repeating the same process.
Speaking of beauty, we take a sneak peak into Mamamia's Executive Editor (and resident beauty guru) - Leigh Campbell's beauty bag. It's pervy beauty viewing at its best.
How do you use it? 
It's super intuitive to use and making the claim that it will dry your polish in just two minutes, it impressively did.
While road-testing the machine I used OPI's Natural Nail Strengthener ($19.95) as a base coat, Essie's Nail Polish in Really Red ($14.95) as my colour, OPI's RapiDry Top Coat ($25.95) for the top coat and to really speed up the process, I finally applied a few drops of the Essie Quick-E Drying Drops ($19.95) to set the colour. This step, while unnecessary, managed to significantly cut down my nail drying time even more.
In between each coat I 'dried' my nails for roughly 30 seconds, finishing up with a final burst of about a minute.
Using my thumb as the air-drying test, after a minute in the Air Dryer touched my thumb nail which left a minor dent in the polish. Though when I did the same to my other fingernails, I discovered that the lacquer had completely set.
Now roughly an hour since my DIY mani, there're a couple of lines across my thumb, but my other nails are absolutely pristine.
The results.
In short it works - it really, really works. The time it took for me to finish my entire manicure and have it confidently smudge proof took around 10 minutes.
And at $9.99 you have nothing to lose but a future of perfect, money-saving DIY manicures.
Onwards, I say.
You can find the Airflo Nail Polish Dryer ($9.99) along with a bunch of other beauty bargains on Mamamia Shopping. Score.
Do you have a DIY manicure hack that we need to know about? Tell us in a comment.