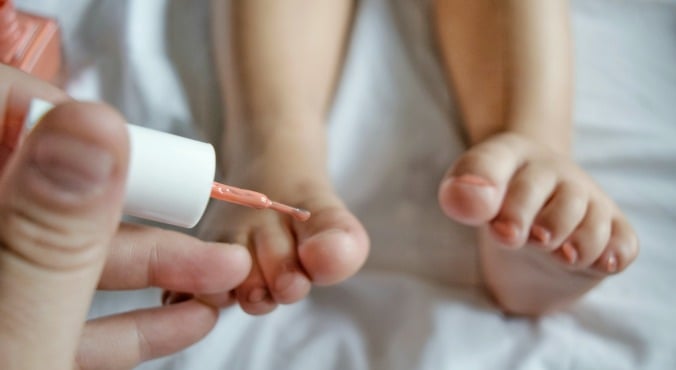 Image: iStock. By Mariana Abeid McDougall for The Good Men Project .
When my three-year-old son and I were visiting his grandpa once, a non-surprising exclamation pierced the air, "what's on his toenails???"
"Nail polish," I simply responded. A scoff and eye rolling ensued, but to my delight, that was the extent of the criticism.
Wearing nail polish teaches my son to exercise his self-expression.
Others have been more openly critical of the fact I "let my son wear nail polish," as if wearing nail polish was some kind of serious offense against the good of humanity. If only I let him play with sharp knives.
Here are the four great reasons my son wears nail polish proudly, with no interference from Mama, and how this simple fact will help him grow into a good man.
1. Wearing nail polish teaches my son to exercise his self-expression and allows him to do so in a safe environment.
My son is three. He spends most of his time with Mama and Daddy, who love him unconditionally, and support him in the choices that he makes, so long as these choices do not hurt him or others.
Wearing nail polish allows him to express himself by using his favourite colour, and to show everyone his proud accomplishment of painting his nails (sort of–he is three, after all). (Watch Mamamia TV's advice for Mums. Post continues after video.)
Since he is three and spends most of his time with us, the risk of bullying because of his "unusual" choice of self-expression is minimal. We can help him respond to criticism by example–by either ignoring it, or pointing it out for what it is–nonsensical societal constructs that need not continue to be followed.
While he might be a little too young to understand that last point, he's not too young to observe his parents stand up for what they believe in: that children (and people in general) should be allowed to express themselves in any way they see fit. Whether or not others consider it "appropriate gender expression," whatever that means. (Post continues after gallery.) 
The best minimalist nail art on Pinterest