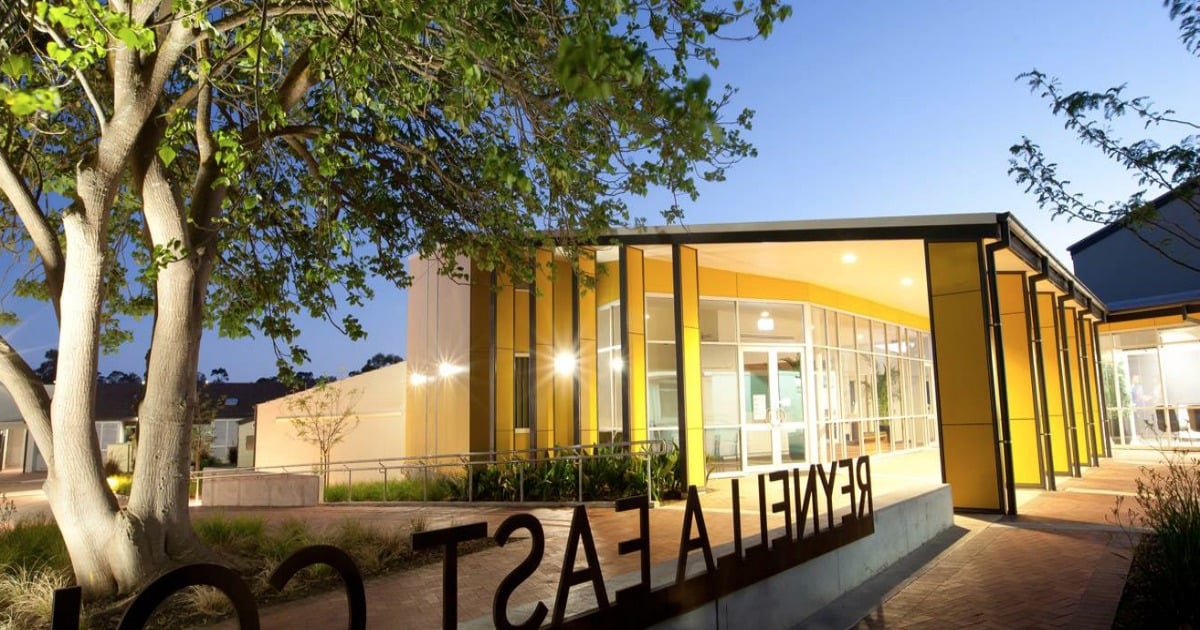 We've rounded up all the latest news from Australia and around the world – so you don't have to go searching.
1. Year six student's quick thinking thwarts would be predator.
An Adelaide family is coming to terms with what could have been after a young girl fended off a would-be predator with her quick thinking.
The student, a Year Six student at Reynella East College, was walking near the fence of her school about 8:30am yesterday morning on her way to school when she was approached by the stranger.
Nine News reports that the man reportedly told the girl: "Your mum told me to pick you up at 1.30".
The year six student replied, "My parents are dead".
The man then got back in his car and drove away.
The young girls' mother, Emily Mirano said she hoped he didn't live nearby. "It is very frightening"  she told Nine News.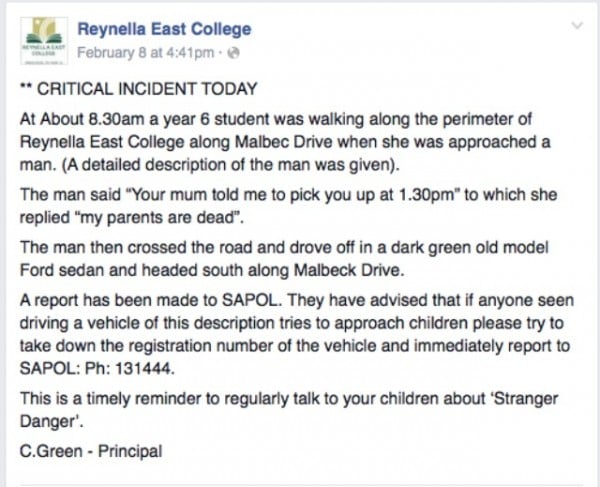 The principal of Reynella East College, Caroline Green has praised the girl for her actions.
"To be able to think on her feet and to get herself out of harm's way immediately is something to be congratulated for," Ms Green said.
Police say the man was driving a dark green Ford sedan, and the young girl described him Caucasian, about 180 centimetres tall with dark hair. He is believed to have had tattoos on his right arm and right leg, and was wearing a black t-shirt and black and white checked shorts at the time of the encounter.
Anyone with any information is encouraged to contact Crimestoppers on 1800 333 000.
2. Snake found in childcare centre cot.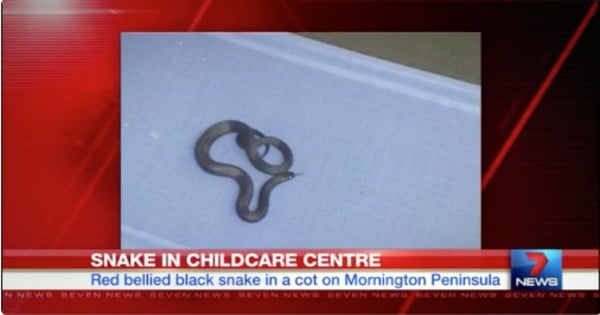 A Victorian childcare educator has had a frightening experience after finding a red-bellied black snake curled up in the sheets of a cot.
The centre, in the Mornington Peninsula, found the snake right before it was time for the children to take a nap.
Snake Catcher Victoria's Barry Goldsmith told Seven News one of the workers was taking the sheets off the bed when the snake fell out in front of her.
"They weren't scared, they handled it really well," he said.
"It's possible a child had been eating a sandwich in the cot, which could have attracted the snake," he said.
Mr Goldsmith said it isn't unusual to find snakes in schools and childcare centres.
"They are very common in schools and childcare centres," he said.
"They're places where you have kids and kids drop food and attract mice, which then attract snakes."
3. The $40 million divorce that has left an Adelaide woman with just $5.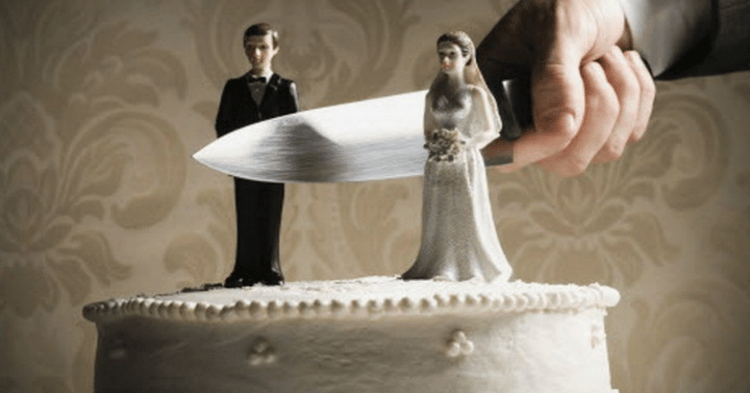 A woman, who together with her former partner has spent almost $40 million on their divorce over 11 years, claims she has been left with just $5 to fight her case.
The woman has filed Supreme Court action against Winter and Co, based in Melbourne, and solicitor Michael Winter reports The Advertiser. She says the lawyers, who handled her case for five years, gave her a trust account that was   "inadequate and illegible".
"The divorce case has required my ex-husband to pay in the order of $1.6 million to Winter and Co's trust account for my matter," she asserts in her affidavit.
"As the trust account statement shows, there's now $5.25 left.
"From what I have seen and what I know of my matters, I believe my divorce is far from ready for trial … the $5.25 left is no help."
The woman is seeking a multi-million dollar property settlement, and millions in child support, from her ex-husband.
It is the second time she has taken court action against a law firm that has represented her.
Documents filed in that first case asserted that, by 2010, the woman had paid a total of $10.5 million in legal fees due to the divorce, while her ex-husband had paid $26 million reports The Advertiser.
4. Malcolm Turnbull to deliver Closing the Gap report card.
The Prime Minister, Malcolm Turnbull will today deliver his first annual Closing the Gap report card.
Mr Turnbull will tell parliament this morning that the annual Closing the Gap report is "an opportunity to recommit to … achieving the equality of opportunity for all Australians."
The aim of the Close the Gap report is to raise the health and life expectancy of Aboriginal and Torres Strait Islander peoples to that of the non-Indigenous population by 2030.
This year's report show further improvements towards halving the gap in child mortality, and will show that the target to halve the gap in Year 12 attainment by 2020 is also on track reports the ABC.
But there has been increasing frustration within Indigenous people by a perceived lack of progress.
5. Medicare and other government payments to be privatized.
The Turnbull government is preparing to head to an election with a plan to privatize a swath of government payments.
Medicare, Veterans Affairs, and the Pharmaceutical Benefits Scheme would be outsourced, with a new system allowing instant online transactions using smart phones.
However there are fears that any privatization could lead to patient's confidential information ending up in the hands of a private company.
Yesterday Health Minister Sussan Ley confirmed that the government was examining Medicare's payment technology.
Prime Minister Malcolm Turnbull too didn't shy away from the speculation saying "The Government is, as always, totally committed to Medicare," he said.
"What we are looking at, as we look at in every area, is improving the delivery of government services … looking at ways to take the health and aged care payment system into the 21st century. This is about making it simpler and faster for patients to be able to transact with Medicare, to get the services they are entitled to."
6. Boys taken to hospital after severe sunburn.
Two boys from Cairns, aged four and six, have been taken to hospital after suffering severe sunburn.
A Queensland Ambulance Service spokesman said the four-year-old boy and a six-year-old boy from Redlynch were transported to Cairns Hospital at 10.39pm with "very red" and "peeling" skin on their face, ears, shoulders, back, chests and face.
The Brisbane Times reports the two boys had been playing outside for hours with no shirts on.
It comes as the British National Institute for Health and Care Excellence (NICE) has issued new guidance saying that adults should apply sunscreen after just 10 minutes in the sun.
It recommends using at least factor 15 sun cream, with adults urged to use 6-8 teaspoons (35ml) per application.
Hollywood star Hugh Jackman yesterday spoke out about his own experience with skin cancer.
He posted a Facebook message urging his friends and followers to get regular skin checks and wear sunscreen.
7. Government withdraws funding for state's largest Islamic school.
There has been shock amongst parents about the future of their children's education after the Federal Government withdrew almost $20 million a year of funding to the Malek Fahd Islamic School in Sydney's southwest.
A nine-month investigation into the school found it had been operating for profit and had ongoing governance concerns.
Federal Education Minister Simon Birmingham said that funding should be exclusively used for the education and welfare of students.
"Unfortunately, the authority that operates Malek Fahd Islamic School was not able to demonstrate to my department that they had addressed the significant concerns about their financial management and governance arrangements raised during the formal compliance review of their operations," he said.
"We have also been in discussion with the Association of Independent Schools to make sure that all bases are covered," he told ABC radio.
It is one of six schools affiliated to the Australian Federation of Islamic Councils (AFIC) under investigation by the Federal Department including the Islamic College of Brisbane, the Islamic College of Melbourne, the Islamic College of South Australia, the Islamic School of Canberra and Langford Islamic College in Western Australia.
8. At least ten are dead after passenger trains crash in Germany.
Two passenger trains have collided on a curve after an automatic safety system failed killing at least ten people and injuring about 150.
The head-on smash happened in the town of Bad Aibling, on the line between Holzkirchen and Rosenheim,  in Bavaria, Germany, at 7am Tuesday, local time.
Transport Minister Alexander Dobrindt told a press conference "The drivers' cabs of both trains are wedged into each other. One side of one train is completely torn open. The other train bored into it."
9. Vaccination falls down parents priority list in teen years.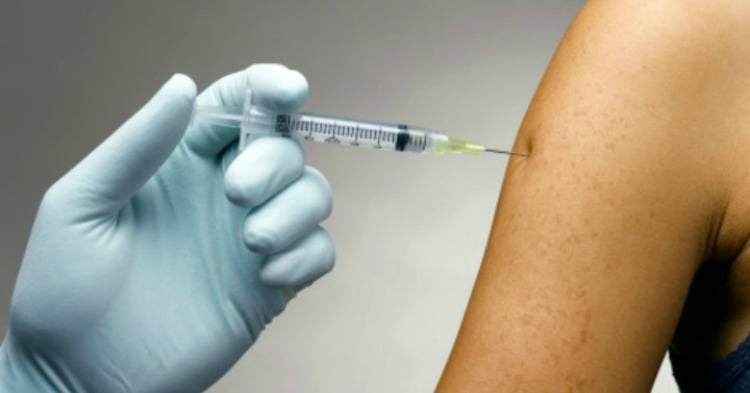 Teenagers are missing out on vital vaccinations as their parents concerns shift dramatically with priorities turning toward education, bullying and overall emotional wellbeing and happiness. A study released today by vaccine maker Seqirus, found that more than half of teen parents did not know vaccinations were on offer at high school and more than a quarter did not seek out consent forms.
Fewer than a fifth of parents considered immunisation a top concern for their teen – compared with nearly half of parents of infants.
Professor Rachel Skinner, Sydney University's Discipline of Paediatrics and Child Health and Adolescent Physician at the Children's Hospital at Westmead, says it's vital parents stay informed about vaccination regardless of their child's age
"It is important to keep track of your teen's immunisation status, which is still a fundamental part of protecting their health and potentially preventing the spread of infectious disease. We are urging parents to find, sign and return the vaccination consent form – without it, their child will miss out on the recommended vaccinations at school." said Professor Skinner.
Across Australia a vaccine for diphtheria, tetanus, pertussis and the Human Papillomavirus Varicella is offered in the first few years of high school.
Do you have a story to share with Mamamia? Email us [email protected]