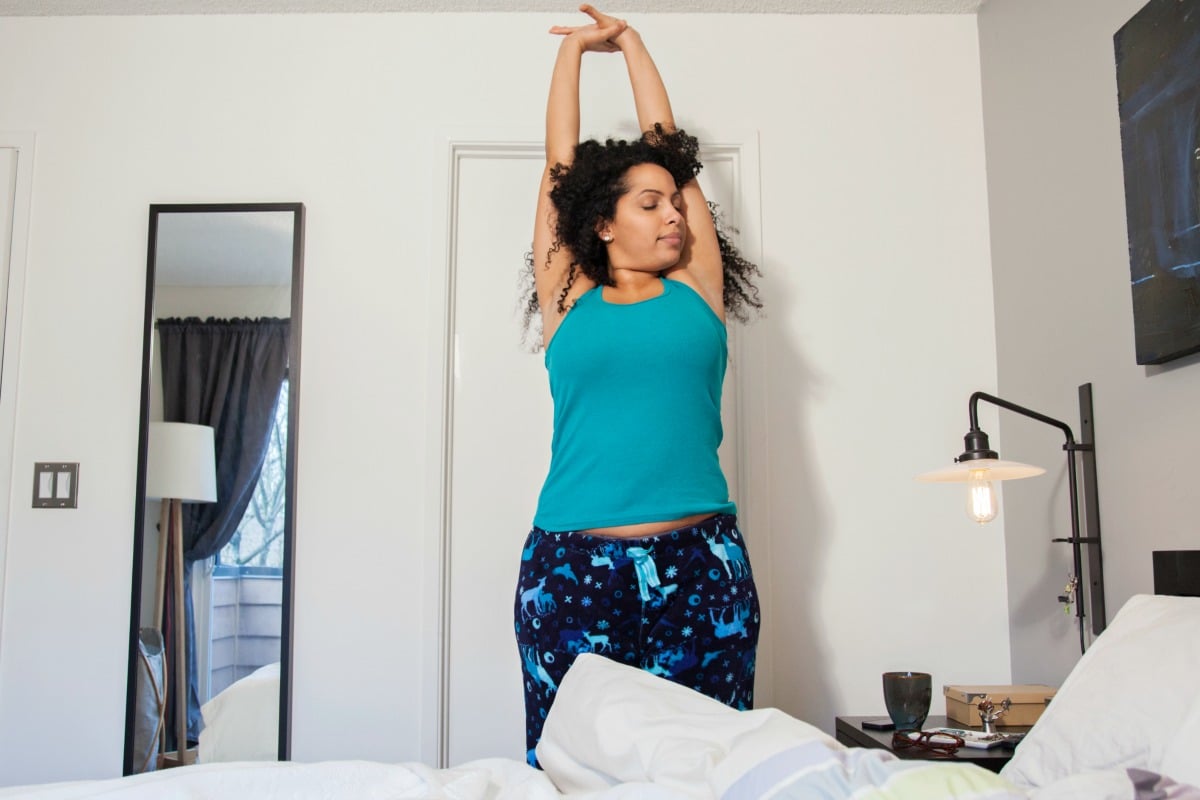 The perfect morning routine is quite an elusive dream.
It's something many of us try to perfect, attempting early wake-ups and rigorous exercise, but often gives way to hitting the snooze button and dousing your hair in dry-shampoo when there is no time to shower.
Still, every woman's morning routine looks a little different, and there's no exact "right" way to do it.
Here, six very different women with very different lives share with Mamamia exactly what their typical morning routines look like, messiness and all.
Kate, 29, Stay-At-Home-Mum
I set my alarm very optimistically for 7am but my toddler Henry usually makes his way into my bed just before 6am and we doze together for a bit before he starts wriggling around enough for me to know he's ready for breakfast.
My husband is in the army and at the moment he's away on deployment so it's just the two of us. We have breakfast together (most of Henry's goes on the floor but we manage to get some in his tummy). He's loving anything with banana at the moment and I like granola with yogurt and just plain instant coffee.
Then if we're going out for the morning to do groceries or a music class I'll lock Henry in the bathroom with me so I know he can't get to anything else in the house and give him my phone for just a little bit of screen time. Then I do as much as I can in a short amount of time which is a moisturiser, a little bit of foundation and a swipe of mascara. It takes us a while to get out the door since packing to take a toddler out for even a few hours is like packing for a weekend away but we manage.
Laura, 32, Writer and Editor 
My alarm goes off at 7.20am, which is a risky game because I need to be out the door of my apartment by 8.10am.
The first thing I do is check my work email to make sure there are no disasters waiting for me to weigh in on and then I have a quick scroll through Instagram and Twitter just so I can mentally prepare myself for the day ahead.
Once I have struggled out of bed I shower and then start getting ready for the day. Part of my job involves going to a lot of events or filming interviews so I usually have to slather on a bit of makeup and curl my hair so I don't feel like an unprofessional swamp creature, then I rush out the door.
Once I get to the office, I like to hide out at a table near the sunlight with my laptop and plan out my day while I savour a cup of coffee. I've recently started having Almond Breeze's Unsweetened Vanilla Flavour almond milk in my coffee every morning because it tastes great and feels super light compared to my usual dairy.
A colleague of mine makes banana choc smoothies with Almond Breeze too… and I'm just a little low-key jealous.