I'm 28 years old and my fiancé has just put a ring on it.
But while I'm jumping up and down on cloud nine, there is a bigger, much darker cloud hanging over me, threatening to rain all over my big day.
My dad is refusing to come to the wedding – because my fiancé didn't ask his permission to propose.
There were so many things about our engagement that were traditional. There was the ring, gorgeous and sparkly, just like I'd always wanted. There was the romantic location, the lake where we'd shared our first kiss, just as the sun was coming up.
There were beaming selfies (more of a modern "tradition", perhaps) and of course, there were tearful phone calls to our families, sharing our happy news.
But one of those calls wiped the smiles off our faces.
My dad, separated from my mum and living in the United States, didn't congratulate us. He didn't ask how my fiancé popped the question or what my ring was like or if we'd set a date yet.
He simply said: "You can't do that, he didn't ask me."
He had to be kidding, right?
LISTEN: Mia Freedman refused to let her father walk her down the aisle on her wedding day. Post continues after audio.
"I'm not being traded for goats," I laughed, nervously.
But this definitely wasn't a joke. In fact, he hung up the phone, leaving me reeling.
I'm an independent woman. I've been merrily paying my own bills for the past decade. It's 2018 for crying out loud!
And yet I'm still a commodity in my dad's eyes. Something to be bargained over, stock to be traded.
To me, he gave his blessing when they had beers and chatted about the footie; when he came to our home, sat down at our table. Blessing is a subtle nod of the head, not a deal to be brokered behind my back.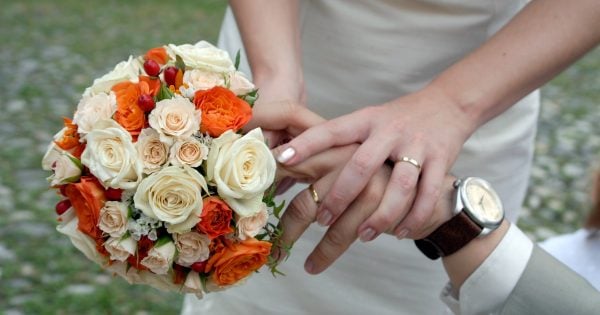 When we'd talked about getting engaged my fiancé had even mentioned the possibility of asking Dad and I'd laughed at him.
Honestly, the thought of him sidling up to my old man, wringing his sweaty hands, saying, "Please sir, can I marry  your daughter?" was just way too cringe-worthy. Not to mention hilarious.
Only, no one is laughing now.
Dad is furious. He's told me (via my mum - he hasn't spoken one word to me since that day) that he won't attend the wedding. My fiancé is, frankly, pissed off. And I'm...so many things. Sad, hurt, angry, defiant.
It's taken the shine off planning the big day. Will there be an empty seat at top table? One less speech to laugh and cry at?
It's been six months since we got engaged and Dad's not budging.
While asking for someone's hand in marriage is an outdated tradition, I did desperately want Dad to walk me down the aisle.
Not so he could "give me away" to another man - but simply so that he would be by my side on the happiest day of my life.
Now it looks like that won't happen.
Have you fallen out with family over a wedding? Tell us in the comments below.
In 2018 Mamamia is launching a new community called Ladystartups for women who work for themselves or dream of doing so some day. We're already on Instagram (come join us @ladystartups) and we have big plans to help women grow their businesses, turn your side hustle into a full time gig or empower you to pursue your dream. Tell us what you want and need from us by taking this five minute survey and register at ladystartups.com to be the first to be updated when we launch.