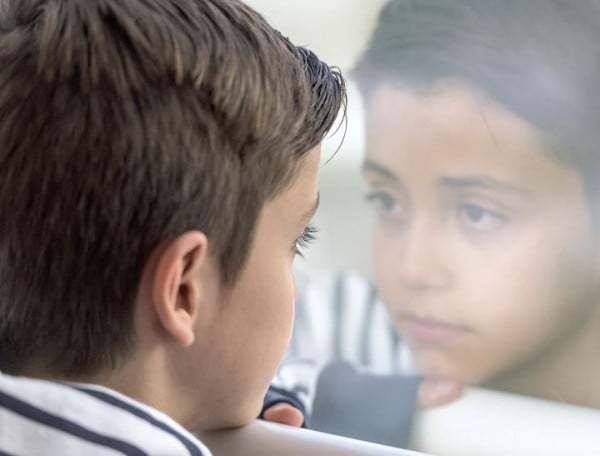 "Mum, I'm worried about the world."
These were the worlds that came from my six-year-old son as we were grocery shopping at our local store. I'd noticed a pensive look on his face and asked him what he was thinking about. I thought he might be trying to figure out how to ask me for a chocolate bar, or maybe he needed to go to the bathroom. 
How on earth was my six-year-old worried about the world? I thought to myself. So I asked for specifics. But he couldn't quite articulate them then, despite being pretty good at it now. Yet the questions continued:
"Could we get a tsunami here?"
"Will you die before me?"
"Will you and dad ever get divorced?"
"What if I'm not smart enough to be a scientist?"
My son isn't the only child who is way too worried for his own good. The results of a survey by ABC current affairs show Behind the News has found that out of 20,000 kids, almost half are worried about their future (43%). But that's just the start of it.
Our children are also worried about:

Family (39%)

Health (37%)

Friends (34%)

Body (31%)

Bullying (30%)

World problems (28%)

School (27%)

Being different (24%)
That's quite a load on our children's minds and I don't know about you, but it makes me incredibly sad for them. We are raising a generation of children exposed to stories of hardship and suffering more than ever before. How do we navigate them through all of this noise in their heads? It's easy to scoff at kid's concerns by telling them not to worry about that and it can be easy to avoid discussing real issues just in case we make it worse.
The good news is that our children want to talk to us about all of this. The same survey found that parents are at the top of our kid's list of people they want to talk to about their concerns (46%), followed by friends (24%). However an alarming 19% say they don't want to talk to anyone about it, and they are the ones who may need a little extra prompting.
Child psychologist Kirrilie Smout told ABC that the first step to helping our kids through this is understanding they have concerns in the first place. "If we understand that rather than having this idea that childhood is all ice creams and butterflies then we're in a better place to actually help children cope with the negative experiences and the negative emotions they do have," she said.