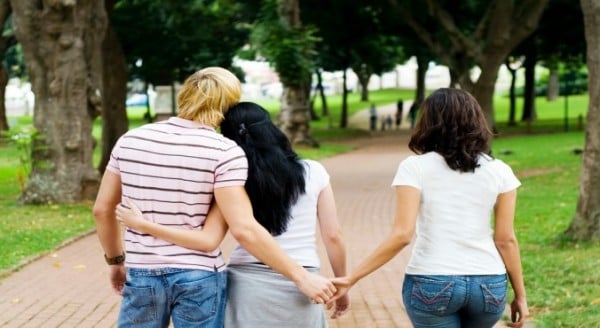 Image via Universal Studios.
Before you've been cheated on for the first time, you think that cheating is a total deal breaker. You swear to your friends that if anyone was every stupid enough to cheat on you, then it was over, instantly. There were no second chances.
RELATED: These are the 7 types of people who are most likely to cheat. (Apparently).
I thought this too, until I was cheated on. I thought that I would move on without a second glance. Unfortunately my situation was a little more complicated because my boyfriend of four years chose to cheat on me with his ex-wife, and it was his 12-year-old son who told me about it.
When I told my boyfriend I knew he'd cheated on me with his ex, he collapsed onto the road and vomited.
RELATED: "I thought I'd never sing again": Shania Twain on her best friend's affair with her husband.
See what I mean by complicated?
When I first started dating him he told me he was divorced, that it was amicable and that they got along really well. They weren't divorced, but in his mind it was just a matter of paperwork. It was amicable, until I came along. They got along really well, except when they fell into the familiar patterns of their failed 10-year-marriage by fighting and flirting. (Post continues after gallery).
My first sign that something was up was when I was offered a job interstate. I sent my boyfriend a curt text telling him I need to talk to him and he sounded panicked. He said, "Are we okay?" That was unusual for him. He'd always been so confident.
RELATED: "I love my best friend but I don't love the way she acts around my partner".
The second sign that something was up was when we found out a mutual friend was cheating on her husband. We were in the car driving to the city and I started ranting and raving about her unacceptable behaviour.
Normally he'd join me in my conversations about cheating being a deal breaker. Instead he defended her. I felt a chill sweep through me but I promptly changed the subject.
RELATED: "The text that revealed my husband had sex with my friend".
A few years later, after we'd moved in together, I was with his son in a food court. We'd just seen a movie. His son started crying, saying that he'd overheard his mum and dad fighting. "What are they fighting about," I asked, concerned for his wellbeing. He said, "I heard Mum tell Dad that she doesn't want to sleep with him anymore."
I felt like I'd been shot.