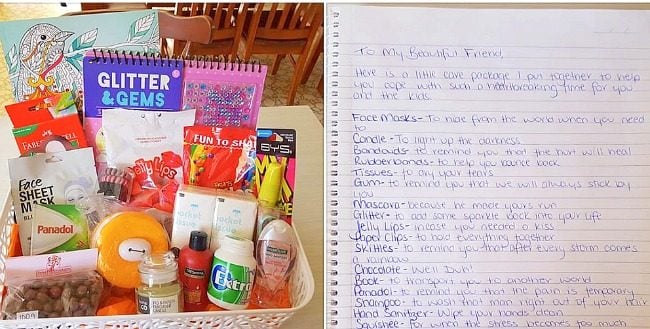 Every woman knows there's nothing like the sisterhood, especially in times of crisis.
This week one woman in a mid-north town in New South Wales discovered this for herself, when her friend presented her with the most incredible gift.
Mother-of-three Jess Palmer learnt that a fellow school mum, and a friend of three years, had woken on Saturday morning to be told by her partner that he was leaving her and her two children.
Speaking to Mamamia, Palmer explained what happened:
"My friend was completely in love with her partner. They had been together for about eighteen months, and we all thought he was her 'penguin', because she'd met him after a bad marriage and he made her happy.
But on Saturday morning, he got up early for work and said to her before he left, 'I can't take this anymore. I'm leaving you and the kids'."
Jess got a text message from her devastated friend, who was concerned more for her daughter, nine, and son, seven, than she was for herself.
But that's what concerned Jess the most.
"I thought, she's got to look after herself. She won't be able to look after the kids if she's a wreck. And so I wanted her to know that I'd be there for her no matter what."
Determined to show her unconditional support, Jess decided to send a 'break up survival kit' – but an exceptionally personal one.
She went to Kmart to grab everything she needed, and then went home to write a beautiful, heartfelt note to accompany it.
When Jess presented the gift to her friend yesterday, she told her, "Read the note first."