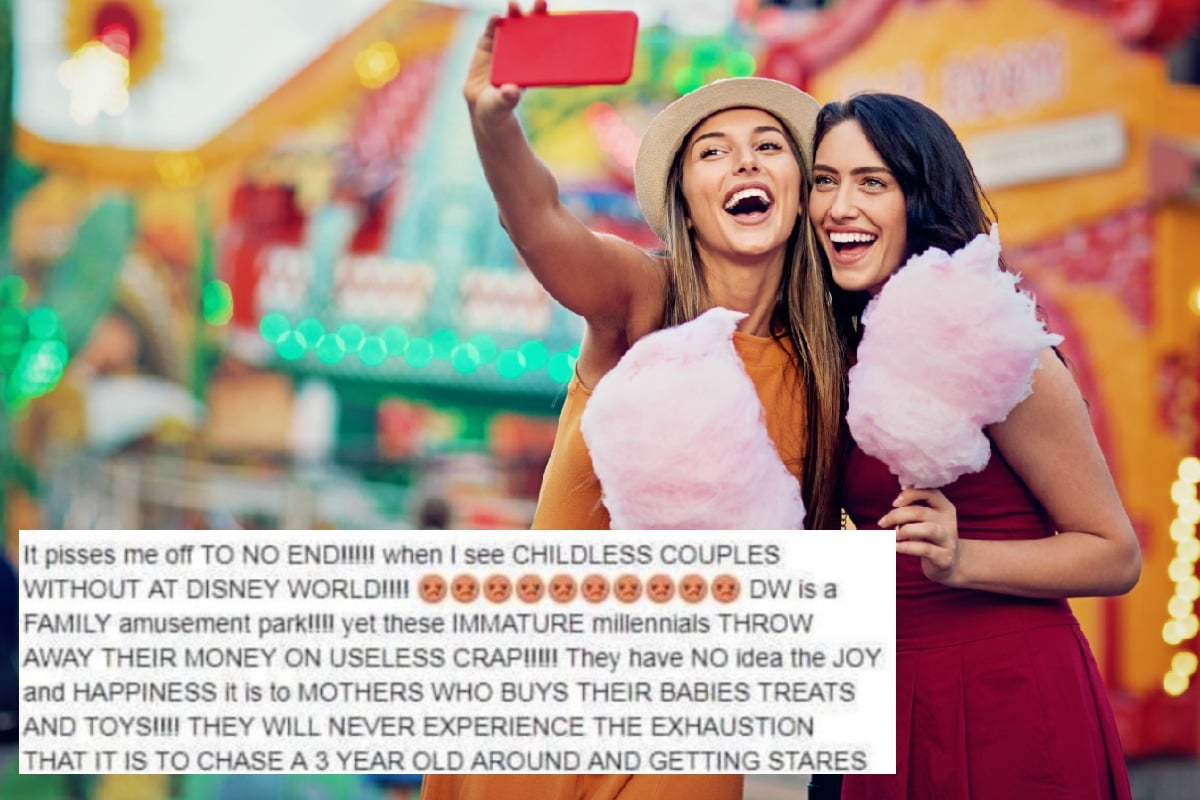 Sometimes people post things on the internet that they… shouldn't.
Like an anonymous mum who has decided she "f*cking hates childless women with a BURNING PASSION" because a woman who may/may not have a child decided to get a pretzel from Disney World.
Yep.
You read that right.
You see, the anonymous mum was at Disney World with her son recently when she noticed that millennials were ruining the experience for families because they were… existing. And also breathing. And walking. And eating pretzels.
She decided to post an epic rant about this on Facebook which was then reposted to Twitter by Twitter user @JenKateWrites.
This is my new favorite wild mommy post. It's me, the millennial slut who just goes to Disney World to make children cry pic.twitter.com/COokEiTdMm

— Jen ???? Gen Con???????????? (@JenKatWrites) July 19, 2019
Hold on, it's quite the ride.
"It pisses me off TO NO END!!!!" she began her rant about… pretzels basically.
"When I see CHILDLESS COUPLES WITHOUT (a child?  ¯\_(ツ)_/¯ ) AT DISNEY WORLD. DW is a family amusement park!!!! Yet these IMMATURE millennials THROW AWAY THEIR MONEY ON USELESS CRAP!!!!," she continued with a unique use of capitalisation.
"They have NO idea the JOY and HAPPINESS it is to MOTHERS WHO BUYS THEIR BABIES TREATS AND TOYS!!!! THEY WILL NEVER EXPERIENCE THE EXHAUSTION THAT IT IS TO CHASE A 3 YEAR OLD AROUND GETTING STARES AT ASSUMING IM A BAD MOTHER!!!!"
This is where it takes a turn.
"This c*nt in some very SLUTTY shorts was buying a Mickey pretzel and Aiden wanted one but the line was very long so I said later and it broke his poor little heart and he cried I WANTED TO TAKE THAT FUCKING PRETZEL FROM THAT TRAMP LIKE THANKS BITCH YOU MADE MY SON CRY!!!," she wrote and WOT.