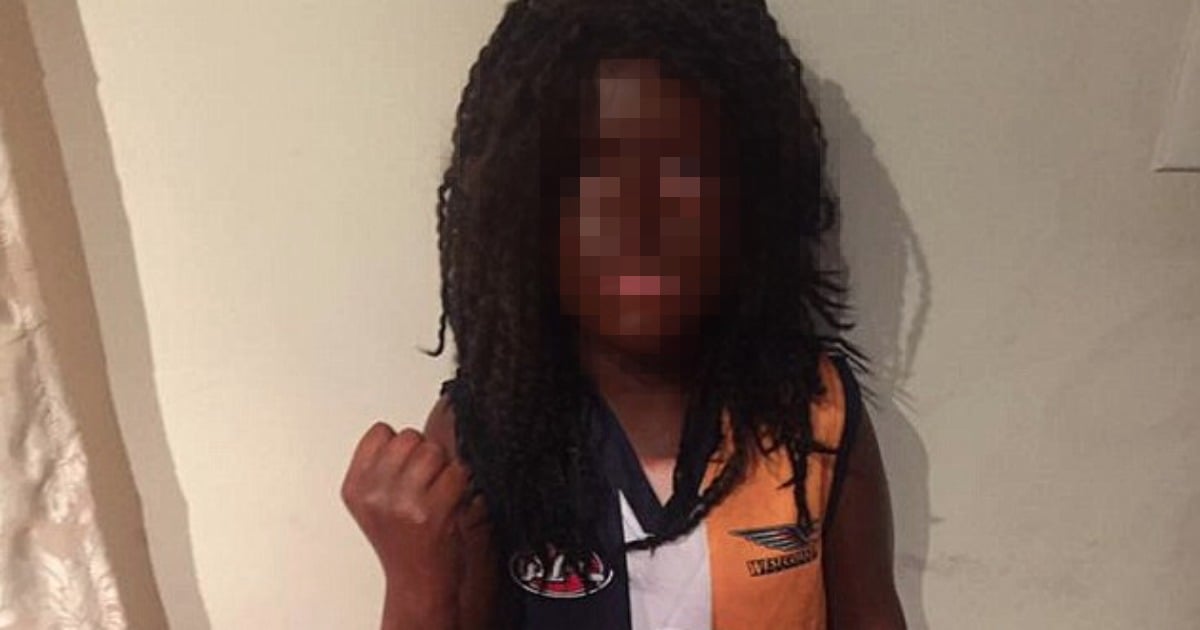 A Perth based mother who shared a photo of her nine-year-old son with his skin painted black is getting a much needed lesson in racism after the photo went viral promoting criticism of the costume and her ignorance over its abhorrent historical significance.
The boy, covered in brown paint with a wig of dreadlocks, was dressed up as AFL star Nic Naitanui for his school's Book Week.
The mother posted a photo of her son and a post claiming it as a "parenting win" on the page of popular blogger Constance Hall.
She wrote: "I NEED to share my absolute QUEENING moment. My son had book week parade today. He wanted to go as his idol Nic Naitanui from the west coast Eagles."
"I was a little worried about painting him. (So many politically correct extremists these days) he is pastey White and if I just sent him in a wig and footy gear, no one would tell who he was."
The mother says "So I grew a set of balls and painted my boy brown and he looked fanf***ingtastic."
"After being told by everyone on Facebook not to do it and it's a horrible idea etc, my son won the f***ing parade!!! Parenting win! I'm celebrating by having a wine before 12pm …"
Seven News writes that since posting the photo the mother was inundated with messages saying she was racists, the mother then posting a reply saying she has been called "every single name under the sun" but that she never meant to offend anyone.
Dr Naomi Priest, Australian National University's expert on racism and child health told The Age blackface "reinforces stereotypes" and it was up to schools to ensure their students were not exposed to racism. But she said that it was wrong to blame or punish the young boy in any way.
"Schools have a mandate to maintain a safe environment for all students," she said.
"This shouldn't be something that wins an award, but gets you disadvantaged."
The boy's idol, Nic Naitanui has not commented on the furor as he was in surgery but his partner, Elle Demasi posted an Instagram image of the West Coast star with no reference to the blackface controversy.
  Others have questioned why on earth the boy was even going to a Book Week parade as an AFL player…
It's not the first time 'blackface' has been an issue this year.
In February Basketball star Liz Cambage slammed her fellow Opal Alice Kunek for posting a social media pic of her dressed up in ripped white clothes, a beanie and painted face alongside her Melbourne Boomers team-mate Tess Madgen, who was also in fancy dress.
Cabbage tweeted "I'm am so shocked and disturbed to see this behavior (sic) from someone I'm meant to call a "teammate"," wrote Cambage, whose father is Nigerian. "Blackface is disgusting, I honestly have no words."
The Mixed Grill discuss the Frankston Bombers 'blackface' scandal. Post continues… 
While in May another sporting team, the Frankston Bombers, posted images of players dressed as 'rappers' to their public Instagram page.
Many players donned dreadlock wigs, covered themselves with fake tattoos and painted their bodies black for the club function, which was 'iPod Shuffle' themed.
The club have since publicly apologised.
On Twitter many expressed their anger and disgust at the post and those who defended it.
Constance Hall since deleted the post saying she did not believe that the woman was racist but said she did not support her decision.

"I don't agree with dressing your child up in blackface, I can't defend it," she wrote.
"Because it is hurtful to our indigenous brothers and sisters.
"I don't believe that the mum in question was behaving maliciously, I don't believe that she intended to hurt anyone.
"However, I think it was an ill informed decision based on her view that there is too much political correctness in our world."
Did you know we have a parenting podcast? Join Andrew Daddo and Holly Wainwright every week to discuss every aspect of family life on This Glorious Mess. It's the perfect podcast for non perfect parents. Listen to the latest episode here: