Kelli Peters, 49, was the president of the PTA at Plaza Vista School in Irvine, California.
Her 10-year-old daughter, Syndie, was in fifth grade. Peters was also the volunteer director of the Afterschool Classroom Enrichment program at the school, and was always on campus. She had began working as a volunteer six years earlier and was the mum at school everyone knew.
It was an otherwise nondescript Wednesday when she heard a policeman at the front desk of the school, asking for her by name.
It was the beginning of the suburban crime in a gated Californian community reported extensively by Christopher Goffard in the LA Times that has gripped the US. The story is so full of twists and turns, of real life characters straight out of central casting the LA Times even serialised it.
Here we go:
As anyone who had a policeman asking for her, Peters panicked. She worried that something terrible had happened to her husband. Why else would a policeman be looking for her?
She was assured that nothing had happened to her husband. Rather, the policeman, Officer Charles Shaver, wanted to search her car. It was an unusual request in this The Truman Project city. Peters had deliberately settled in Irvine in Orange County, California due to its stress free living. It's a planned and uniform city where the LA Times reports bars, liquor stores and homeless shelters had been "purged" and the small neighbourhoods adhered to lawn-length requirements and mailbox uniformity rules. It is ranked America's safest city for its size.
Earlier that afternoon, Shiver had received a phone call from a man who said he had a daughter at the school. He told the police he was "I'm concerned one of the parent volunteers there may be under, uh, under the influence or, uh, using drugs. I was, I just had to go over to the school and, uh, I was, I saw a car driving very erratically."
The policeman asked if he could search Peters' car. With nothing to hide, she said "absolutely".
He found a ziploc bag with 17 grams of marijuana in it, a pipe, 11 Percocet pills, and 29 Vicodin. It was more than enough to send her to jail.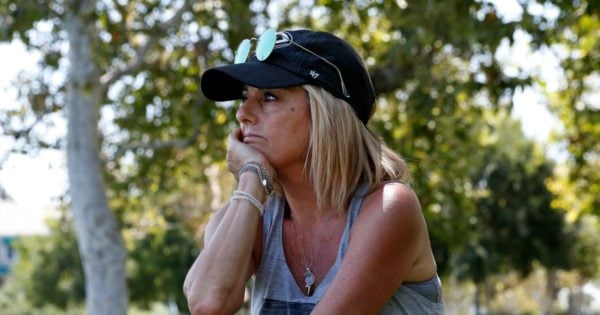 Despite the evidence, Peters insisted the drugs were not hers. The policemen proceeded to drug test her, and indeed, the results came back clear.
As Officer Shaver looked more closely, inconsistencies in the case began to emerge.
The call had been made at 1.15pm, yet school officials confirmed that Peters had been on school grounds since 12:40pm.
Shaver called back the number provided by the man who reported her. It was a fake.
Unlike a lot of other Irvine residents Peters did not own a home and rented. Money was tight since she quit her job to raise her only child. Peters was taken back to the police station, the officers believing that she was a suburban mum who had a pot habit.
She insisted that they were not hers, and she often left her car unlocked. They could have been planted there by anyone.
This of course begged the question from police: Who on earth would want to frame a five foot, sweet looking PTA mum?
"I have an enemy," Peters said.
Meshel Laurie interviews one of Australia's most prominent true crime writers. Post continues below. 
A year ago, almost to the day, Peters had a bizarre run in with a mother from her daughter's school.
As usual she had been working as the volunteer director for an after school program, and had the task of collecting all the children after activities  and leading them to their parents at the front of the school.
During the commotion of herding heaps of children from tennis lessons, a six-year-old boy had been left behind briefly at a locked back door. Another staff member found him and walked him over to his mother - a woman named Jill Easter. Noticing that her son seemed upset, Easter asked Peters what had happened.
She was told that her son had been slow to line up, and had she hadn't realised he'd been left behind. Peters apologised profusely, and told school officials "I gave him a hug and I thought she looked like she was OK with everything".
This didn't sit well with Jill Easter. She was in her 30s, a Berkeley Law school graduate married to a Stanford and UCLA Law graduate. Easter had given up her job to stay at home and raise her three young kids and the following day, Easter reported the incident to the school, saying that her son had been "crying hysterically" and had been left close alone for around 20 minutes (an internal school review found the time to be closer to five minutes).
She was extremely angry and had interpreted Easter's comments regarding 'slowness' to mean 'intellectually slow'.
The accusations were doubly confusing for Peters who had a good relationship with Easter's six-year-old son. He was a day dreamer who would often show Peters his drawings.
From this point onward, Easter was on a woman on a mission. She made it clear that both she and her husband were attorneys. She wanted Peters removed from her position, and claimed that she had harassed and stalked her son and "threatened to kill her". She filed a restraining order and then her husband Kent filed a civil suit against Peters claiming his son had been the victim of "false imprisonment" and "intentional infliction of emotional distress" and had suffered "extreme and severe mental anguish".
The court threw out one suit, the Easter's eventually dropped another and despite Easter's attempts to rally parents on campus against Peters, Peters was elected president of the PTA.
Jill Easter was the enemy Kelli Peters was referring to.
Police looked into phone records, and found that there had been some unusual phone activity between the hours of 2:37 a.m. and 4:21 a.m on the day drugs had been found in Peters' car. A series of texts had been exchanged between Jill Easter and her husband, Kent, in very close proximity to the Peters' house.
The police dug deeper. Jill Easter was a published author, and her latest book was described as such on its promotional page: "Ever dream about the perfect crime? It's in this book! As you read, you'll be wondering why no one has thought of it before. It's shockingly simple, twisted and 100% possible. Once you read about it, you'll be tempted to pull it off!"
Kent and Jill Easter's finger prints were discovered on the drugs found in Peters car. Peters suffered years of stress and anxiety believing that any minute police were going to knock on her door and charge her for crimes she didn't commit.
What ensued was a court case seemingly pulled from the pages of Gone Girl that even involved planting a recording device on Jill Easter's lover, a local fireman, to try to get him to get Easter to confess to the crime.
Jill Easter, the UC Berkeley-trained lawyer, was characterised as a cheating, calculated, cuckold, puppeteering her extremely wealthy husband. In court the couple turned against each other.
Kent was portrayed as a man who had no say in what he did. Evidence was produced of angry emails from Jill ordering Kent to do something about Peter. Jill was portrayed as the schemer, the manipulator.
The LA Times writes:
Orange County had long been dogged by images of rich and plastic people, the stereotypes fueled by the "Real Housewives" franchise with its rotating cast of socialites, their lives a whirl of feuds, shopping trips, personal trainers, lovers, plastic surgeons.

Now the Easters became symbols of this status-obsessed milieu at its most deranged, with an inexplicable crime that seemed to throb weirdly at the nexus of suburban psychosis and class privilege.
Jill Easter, who now goes by the name Ava Everheart, spent 60 days in jail. Her now ex-husband, Kent Easter, spent 87 days behind bars.
Everheart was then ordered to pay Peters $5.7 million in damages despite the fact they are bankrupt.
Years later, both Everheart and Easter have not publicly acknowledged playing any part in the crime. Kent makes a living by doing odd legal jobs and freelance writing and Everheart has left the tow Irvine.
Peters still lives in the Orange County city because, she says, "I feel safe here."