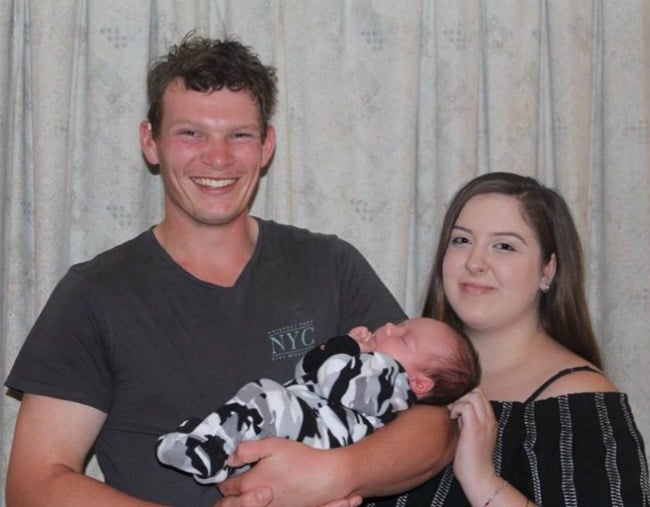 With AAP.
1. Australian mum's bassinet warning after waking to seven-week-old baby in pool of blood.

An Australian mum has warned parents of the potential dangers of "breathing holes" in baby bassinets.
Erin Duffy of Adelaide, who gave birth to Parker seven weeks ago, wrote on Facebook on Monday when she woke her son earlier that morning, she was shocked to find "massive amount[s] of blood all over him".
"This morning Parker had just woken up at about 11 and I went and got [his] bottle ready and then sat with him, I was on the phone to mum and didn't notice anything at the start until I went to pick him up. I then saw a massive amount of blood all over him, [his] blanket and [his] bassinet," she wrote on Facebook.
The bassinet Parker was sleeping in had holes on the sides to help the air flow, she said.
"I got mum to come straight away and she took him to the doctors quickly so I could get dressed and get [his] bottle and meet her there. Turns out Parker had gotten [his] little baby toe stuck in the little holes in the side and it cut [his] baby toe."
She wrote she had "never even thought" of something like this happening, believing originally the holes were good to "help air flow".
"Very very dangerous. Although Parker's cut wasn't big at all he lost a lot of blood which is very strange for a six week old baby and even the doctor said it was strange. He's okay now and is very happy sleeping. Definitely will be keeping socks on Parker every night to make sure it doesn't happen again."
Erin went on to warn any parent with a bassinet with similar features to keep an eye on their kids' toes, but told 7 News little Parker's sliced toes are on the end.
2. Two men guilty of Brisbane rape sentenced to eight years jail.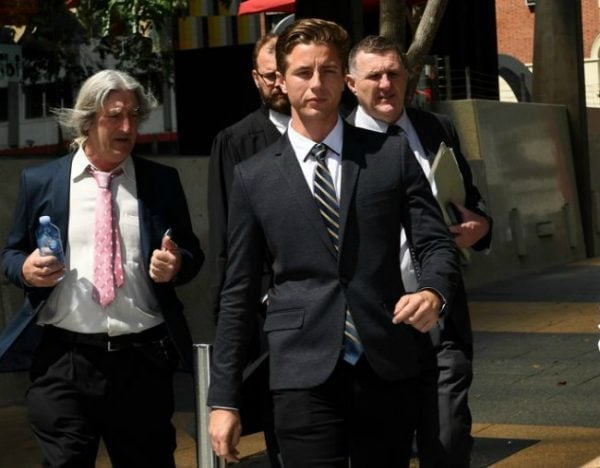 Two men who viciously raped a medical student in a dark Brisbane alley have been sentenced to at least four years and three months jail.
Ryan David George and Jack Scott Turner Winship noticed the 20-year-old woman was drunk, targeted her as she staggered home, manoeuvred her into an alley and attacked her before leaving in a "jovial and cavalier" mood.
Their victim had not had sex before being raped in the West End laneway and was found "out of it" and with blood on her thighs and hands following the April 2011 assault.
The men had argued that all interactions with the university student, who cannot be named, were consensual.
But a Brisbane District Court jury disagreed on Tuesday evening and found them guilty after a week-long trial.
The trial heard they raped and sexually assaulted her between bins and air-conditioning units for at least eight minutes.
"There was pain. Searing to the core," she wrote in a victim impact statement.
She said the attack left her nauseated and suffering flashbacks.
"I cannot sleep and when I do I wake up minutes or hours later," she wrote.
"I sincerely hope I'm through the worst but history can't be erased."
The woman suffered blood loss from genital injuries, Judge Gregory Lynham said as he sentenced the men to a maximum eight years and six months in jail.
"Your offending can only be described as abhorrent and despicable," he said on Wednesday.
At the opening of their trial, the jury were shown crime scene pictures of alley walls that were smeared with blood, which was later confirmed to belong to the victim.
Crown prosecutor Dzenita Balic said she was a virgin before the attacks and cried in pain while being assaulted.
There was never any question Turner Winship and George were in the alley with the woman or that Turner Winship had sexually interacted with her.
When he gave evidence, he claimed the woman was consenting and had been passionately kissing him and George moments after they crossed paths.
"She was enjoying herself," Turner Winship told the court.
He denied his victim appeared drunk and had also bragged about the rape to friends at a pub.
After she was raped, she left the alley and approached Michael Hayward.
He recalled the woman coming to him "out of it", with blood on her lower thighs and hands, and telling him, "These guys are trying to hurt me."
Mr Hayward ran to catch the pair and one of them bragged about a sexual encounter.
He told the jury he was surprised by how "jovial and cavalier" they were.
They will be eligible for parole in July 2022.
3. Woman's death after botched breast filler procedure prompts new legislation to crack down on dodgy cosmetic clinics.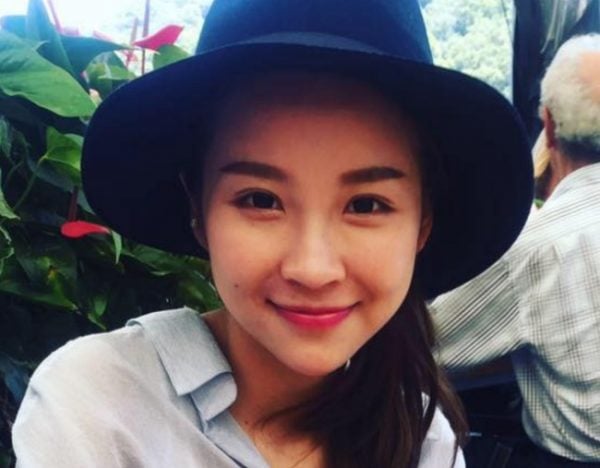 Cosmetic clinics in NSW could be fined up to $110,000 if they put clients at risk, under new laws prompted by the death of a woman who underwent a botched breast filler procedure.
The legislation, which passed NSW Parliament on Wednesday, follows a review into the industry following the death of 35-year-old salon owner Jean Huang in August 2017.
Health Minister Brad Hazzard says even though NSW had some of the strongest regulation in the country, unsafe practices were still taking place.
"The new laws will help ensure medicines used in cosmetic treatments are administered safely and anyone performing a high-risk procedure must do so in a licensed facility," he said in a statement.
Anyone who performs a high-risk procedure at an unlicensed facility will be hit with a $55,000 fine, while operators themselves could be fined $110,000 for breaches.
The laws create a new classification for medicines used in cosmetic procedures, along with tailored rules about their storage, access and use.
Police believe Ms Huang died from an overdose of the local anaesthetic Lignocaine and had high levels of the painkiller Tramadol in her system.
Two women, Yueqiong Fu and Jie Shao, were charged over the incident and have since received bail.
The reforms also follow a case on the state's Central Coast where a so-called "body modifier" was charged with genital mutilation over a procedure he allegedly performed on a woman at a Newcastle business in 2016.
Brendan Russell, 37, appeared in Gosford Local Court last week where a magistrate allowed his bail to continue until his next appearance on July 20.
Court documents allege Russell, who is not a qualified medical practitioner and uses his "modification name" BSlice DotCom on social media, mutilated the woman sometime in 2016 at Newcastle West.
4. Parents win court case to evict their 30-year-old son from family home, after he ignored five notices telling him to leave.
New York parents go to the Supreme Court to evict their 30-year-old son who lived at home. https://t.co/jckplEuLRN pic.twitter.com/lyby6Q7eIt

— Inside Edition (@InsideEdition) May 23, 2018
An upstate New York couple have won a court case to force their 30-year-old son to leave home.
Mark and Christina Rotondo took the matter to the Onondaga County Supreme Court after their son Michael ignored five notices between February and April requesting he leave their home in Camillus, about 420 kilometres north-west of Manhattan, Syracuse.com reported.
After spending 30 minutes arguing with the younger Rotondo, Justice Donald Greenwood ordered him to leave the house and for adult protective services to investigate.
Rotondo had earlier cited a prior case which showed family members are allowed six months notice prior to eviction, which the judge said an appellate court decision had overriden.
Greenwood said Rotondo's demand for six more months in the house was "outrageous," which was the same word the plaintiff used to describe the judge's eviction order.
No specific deadline for Rotondo to leave was mentioned in court, though his parents' lawyer Anthony Adorante said reasonable time would be allowed for him vacate.
After telling reporters outside the court that he planned to appeal the decision, Rotondo returned to his parents' home.
5. Health Minister's awkward porn 'like' was not the doing of hackers, federal police say.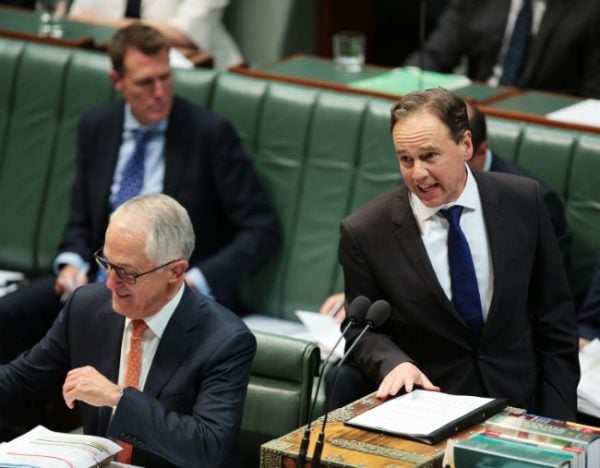 Hackers were not responsible for the Twitter account of a senior federal government minister "liking" an X-rated porn tweet, a federal police investigation has confirmed.
Health Minister Greg Hunt asked the Australian Federal Police to investigate a believed hacking of his Twitter account in December last year after being caught up in the embarrassing online episode.
"The account was not hacked in a criminal sense," AFP commissioner Andrew Colvin told a Senate estimates hearing in Canberra on Wednesday.
Mr Colvin said the AFP approached Twitter for information before coming to the conclusion no crime had been committed.
"I think social media hygiene is an issue that we all need to be very conscious of," Mr Colvin said.
"That is about who has access to your Twitter account, how many people have access, do you know who has access to your Twitter account."
A spokesman for Mr Hunt said the incident was immediately reported at the time for a full investigation.
He said the AFP had been unable to find the source of the like.