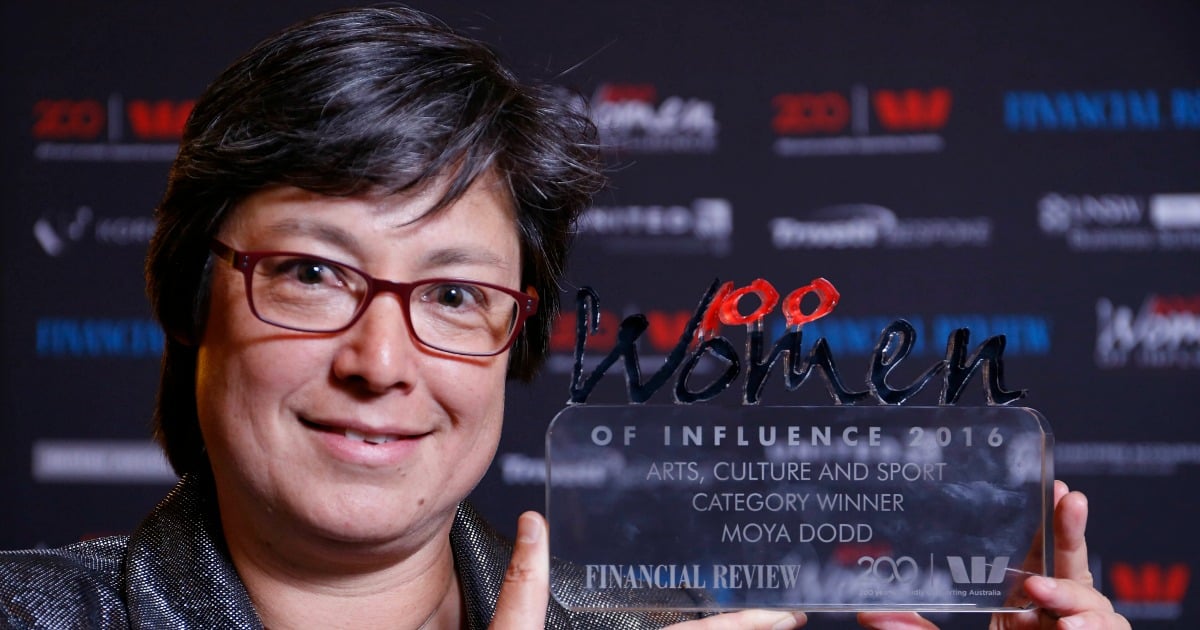 It's 1978. I'm twelve, and nervous. I'm kitted out in black and white stripes, about to take the field at the Port Adelaide Soccer Club for my first "real" football game. I cross the white line, entirely focused. I want to play like Kevin Keegan, and nothing else matters but my team scoring a goal.
All of us who are lucky enough to have played a team sport have memories like this. The moment when we surged into space with the ball at our feet, looking for the killer pass, a piercing run, or a shot on goal. We felt the breeze in our hair and lightness in our feet as we accelerate past one, and another, then released the ball exactly as we wanted. We felt freedom, mastery, achievement.
We learned that being our best means helping others be their best, too. That we were always braver together, that our team was always better when every individual put the team before herself.
Moya Dodd accepting the Women of Influence Award. Image supplied.
On the field, there was no homework, no chores, and no worries. Nothing but green grass, goalposts, some players, and a ball… and nothing else mattered.
As we grew older, the lessons of sport saturated other parts of our lives. As in sport, improvement is incremental and proportionate to effort and desire. As in sport, the friends who stay around when you're losing are for real. As in sport, doing the right thing doesn't always correlate with success, but in the long run it definitely improves your chances.
But the sad fact remains that women and girls are less likely to have those sporting lessons than their brothers. Because even in 2016, girls experience sport very differently to boys.
Moya Dodd at the Women of Influence Awards. Image supplied.
Take, for example, the sports holiday camp my kids attended. My son wore his Liverpool kit, triggering a lot of friendly banter with the coaches. Next day my daughter wore hers, anticipating the same attention. She came home disappointed.
"Yesterday, he wore his Liverpool clothes and everyone said 'yay Liverpool'. But today, I wore my Liverpool clothes, and no-one said 'yay Liverpool' to me," she told me, sadly.
Try explaining to a seven-year-old why it is that a boy in a team jersey is assumed to be knowledgeable fan, while a girl in the same jersey is not. Why an assumption of sporting competency is endowed upon males, even from a young age, while female fans, players and coaches need to prove themselves over and over again.
Take another example: the half-time entertainment at a big stadium. A lucky few kids are out on the field, dribbling towards goals and being hailed by the MC as they put the ball in the net.
"Well done, champ! What a goal!" he says to the boys.
A girl crosses the line third, leaving many boys in her wake.
"Hello beautiful," he coos. "How was that?"
Moya Dodd with Westpac CEO Brian Hartzer and Fairfax CEO Greg Hywood. Image supplied.
She doesn't reply that her goal was just as good, that she too is a champ, that his unthinking bias has been on display for all to see. She's only about four. But like my daughter, she is left to make sense of a world that assumes girls lack sporting competency, and perplexed parents are left to wonder why their daughters go unrecognised, under-resourced, and ultimately unremunerated.
In allowing this to occur, we truncate at least three benefits that sport brings to a girl.
As an individual, she loses the health benefits, self-esteem and feeling of mastery. As a team member, she misses the social learnings, networks and lifelong friendships.
And because the world sees a girl differently when she plays sport, she also loses the chance to be viewed as equally human, as deserving of rights and as capable of contributing as her brother.
So next time you see a girl excluded, belittled or accidentally forgotten in sport, speak up. Ask your club whether equal resources and equal quality activities are offered for both genders. Observe whether girls and boys are made equally welcome. And check whether your school provides non-discriminatory resources and programs in sport for each gender, as federally-funded schools are under US Title IX legislation. Title IX, enacted in 1972, is the single biggest reason why America has won more FIFA Women's World Cups than any other country, and more Olympic gold medals in football than all other countries put together.
Sport – and perhaps life – is riddled with unconscious biases. It's only by calling them out that we can consciously address them.
Moya is the fifth woman to be announced as Australia's most influential woman through the Awards; recognising her global efforts fighting for transparency, governance and gender inclusion for women in sport, particularly football (soccer). She is a former Matildas vice-captain and continues to be a big part of the soccer community. 
Her work includes leading the global #womeninFIFA push for gender equality during the recent FIFA reform process, campaigning on women's right to attend stadiums in Iran, and helping to change the rule against women playing football in headscarves.